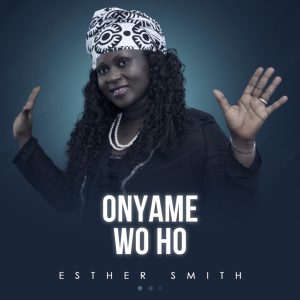 Esther Smith is an accomplished Ghanaian Gospel singer, songwriter, and performer who currently resides in Germany. With a string of awards and multiple recognition to her name, Esther is a true legend in the Gospel music scene.
"Ma Ensi Me Yie (Worship)" is a classic Ghanaian Gospel music from her Onyame Wo Ho Album, an 11-track studio project, which demonstrates her exceptional skills as a songwriter and performer.
The track is a powerful Ghana Gospel song that is a must-add to every Gospel music lover's playlist. With lyrics that touch the soul, an uplifting beat, and Esther's beautiful voice, "Ma Ensi Me Yie (Worship)" is certain to leave a lasting impression on anyone who listens to it.
So, go ahead and stream the audio below to experience the full power of Esther's music. And don't forget to share the link with your friends and loved ones so that they too can experience the joy of her music.
Lyrics to Ma Ensi Me Yie (Worship) by Esther Smith
Madi nyinaa ndi boa mi oo
Ma nsi mi yie
M′asɔre anɔpa yi
Me de me hon hyɛ wo nsa
M'adifiri ne menfi bae nyinaa
Ne nyinaa hyɛ wo nsa
Sɛ me didi o, sɛ mɛ nom o
Ne nyina hyɛ wo nsa o
M′ade nyinaa, nyinaa, nyinaa, nyinaa
Ma ensi me yie
M'ade nyinaa endi boa me o
M'ade nyinaa endi boa me o
Me serɛ wo sɛ
M′ade nyinaa endi boa me o
Ma ensi me yie
Me de me hon a to wo so yi
Me hyɛbrɛ nyina hyɛ wonsa
M′ani nyina da wo so oo
Ma ensi me yie
M'adifiri mu, Menfiba mu
Ne nyinaa hyɛ wo nsa o
Máde nyinaa, nyinaa, nyinaa, nyinaa
Ma ensi me yie
M′ade nyinaa endi boa me o
M'ade nyinaa endi boa me o
M′ade nyinaa nyinaaaa eeii
Ma ensi me yie
M'ade nyinaa endi boa me o
M′ade nyinaa endi boa me o
Daddy
M'ade nyinaa nyinaa nyinaa nyinaa
Ma ensi me yie
M'ade nyinaa endi boa me o
M′ade nyinaa endi boa me o
M′ade nyinaa nyinaa nyinaa nyinaa
Ma ensi me yie
Abrabɔ yi hyɛ wo nsa
Me werɛ nyinaa hyɛ wo mu
Adwuma yi hyɛ wo nsa oo
Ma ensi me yie
Me de m'abusua yi hyɛ wo nsa
Me de werɛ nyina hyɛ wo mu
Ade nyinaa nyinaa nyinaa nyinaa
Nenyinaa da wo so
M′ade nyina endi boa me o
M'ade nyina endi boa me o
Daddy
M′adenyinaaa
Yeeeii yeeeei
M'ade nyinaa endi boa me o
Máde nyinaa endi boa me o
Eeiii
Máde nyinaa endi boa me o
Ma ensi me yie
M′ade nyianaa endi boa me o
M'ade nyinaa endi boa me o
Eiii
M'ade nyina nyina nyina eeeii
Heey
By Choir 4x