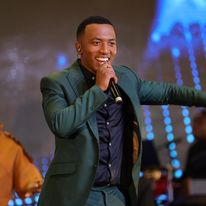 Mdumisenzi Nzimande popularly known as "Dumi Mkokstad" is an award winning South African gospel singer, songwriter and record producer. He is an admirable gospel artist who has set the bar high for both upcoming, aspiring and prospective musicians in the South African gospel music industry.
Dumi's Early Life
Dumi was born on the 20th of May 1992, to the family of Mr and Mrs Falithenjwa and Dudu Nzimande, in the city of Pietermaritzburg, a large city in the province of KwaZulu-Natal, South Africa. Dumi's love for music started at a very young age as he started singing in family gatherings and hometown events.
Education
He attended Northbury Park Secondary School before attending the University of KwaZulu-Natal for further education.
Musical Career
At the tender age of nine, Dumi Mkokstad started his music journey in his hometown Mount Ailif and he wrote his first song at the age of 13.
In 2003, Dumi Mkokstad became popular with the release of his self-titled album under Bula Music. This album made waves in the South African music industry and gained him a lot of recognition. He went on to release several other successful albums including "Ukhona uThixo", "Calvary", "Mbize Ujehova", "Highly Favored" and "Egameni LikiaJesu".
Over the years, he has released multiple albums during his time as an artist. Some of them are: Angikamboni (2005), Africa Classics (2008), Kuphelele (2014), Egameni LikaJesu (2017) and Ebeke Walunga u Thixo' (2018).
Dumi's successful music career spans over almost two decades with several hit albums, collaborations, and awards.
Personal Life/Marriage
On the 6th of June, 2019, Dumi Mkokstad happily got married to Ziphozenkosi Mthembu. They had a very romantic proposal which took place at the Eastern Cape after a long friendship. Their marriage has been blessed with a baby girl named "Lenan'izulu Nzimande" who was born in 2020.
The gospel artiste spends more of his time writing and recording songs. He also travels frequently for performances in gospel events around Southern Africa.
Awards and Achievements
Dumi Mkokstad has a successful music career filled with various accolades, both nationally and internationally. Here's a list of his achievements and highlights:
– In 2003, Dumi Mkokstad released his self-titled debut album under Bula Music, which marked the beginning of his successful career.
– In 2010, he joined Big Music, and his career started to gain even more momentum. He collaborated with popular artists such as Jaziel Brothers, Hlengiwe Mhlaba, Bethusile Mcinga, and others.
– Dumi dropped his album 'Ebeke Walunga uThixo' in 2018, which was another hit in his career.
– In 2013, he won his first major award at the South African Music Awards for Best Gospel Artist.
– In 2015, his song Safa Naye won him the Crown Gospel Music Award for the Best Gospel Song. This remains his biggest and most important award.
– In 2018, he also won the SABC Crown Gospel Award for the Best Gospel Song of the Year with his song uLwandle.
Throughout his career, Dumi has earned several prestigious accolades, including the 2015 Crown Gospel Music Award in the Best Gospel Song category, thereby reaching gold status for one of his albums at a young age, among others.
His music has gained popularity both locally and internationally, and he is widely regarded as one of South Africa's top gospel artists.
Having worked with Thinah Zungu, and others, Dumi continues to collaborate with various artists.
Social Life
Dumi is a very sociable person and he balances his spirituality with his social life, while keeping his fans updated with his life and ministry as a christian and an ambassador for Christ. He is actively present on some social media platforms as stated below:
Facebook: Dumi mkokstad page
Twitter: @Dumi_mkokstad
Instagram: dumi_mkokstadsa
List of Albums/Songs
Some of Dumi's Album include:
Dumi Mkokstad – 2013
Angikamboni – 2005
African classics – 2008
Kuphelele – 2014
Endaweni – 2015
Yamkela indumiso – 2014
While some of his songs include:
Mbize
My God is too much
Ewe Jehova
Thando
Jesus is coming
Umoya Wami
Amandla
Getsemane
Kubonakale ngami
Indawo
Always visit this site for more current information about your favourite gospel artistes and their songs.