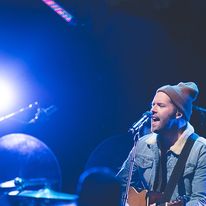 American singer, songwriter, worship leader and producer Patrick Mayberry who has released three EPs, including "Holy Spirit Come," is out again now with this thrilling song titled "He Is".
"He Is" is another beautiful song contained in the album titled "Wild Faith".
Patrick Mayberry recently released his new album which has been the talk of town, as far as contemporary gospel music is concerned.
Don't be found missing in action with this update.
Click on the link below now to take a beautiful listen:
Lyrics to He Is by Patrick Mayberry
I have seen Him
With my own eyes
The Messiah's finally come
The Great Redeemer
Wielding freedom
We've never known this kind of love
He is
So much better than I thought He'd be
He is
So much greater than my wildest dreams
He is
Way more holy
Way more worthy
King of Glory
He is
He is
He is
Come find meaning
Come find healing
He's the water for your soul
For all you're needing
Run to Jesus
For He is God and God alone
He is
So much better than I thought He'd be
He is
So much greater than my wildest dreams
He is
Way more holy
Way more worthy
King of Glory
He is
He is
He is
Knock and the door will open
Seek and you will find
Call and He will answer
Cause God's not trying to hide
He's the Father who comes running
He's the Healer reaching out
He's the Priest who dines with sinners
Turning religion upside down
He's the Savior that we've needed
He's the God we don't deserve
He's the Good News we've been wanting
The best you've ever heard
He's the mighty Lion of Judah
He is the spotless Lamb
He's the Way the Truth the Life
He is the great I am