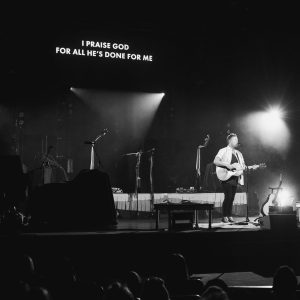 "His" is yet another successful song by Patrick Mayberry from his most recent album, "Wild Faith."
The stirring worship song "His" celebrates the majesty and love of God. It underlines God's omnipotence and ability to rule over all, as well as the fact that we can give Him our problems, doubts, and concerns.
The song conveys the comfort that comes from understanding that God is watching over and relying on us.
Mayberry's fervent and beautiful vocals heighten the intensity of the tune. The song has had a profound impact on many listeners, especially those who have experienced hardships or suffering in life and have found comfort and peace in their faith.
Check it out by clicking on the link below:
Lyrics to His by Patrick Mayberry
The same Voice
That sang and worlds were formed
The same Voice
That spoke and calmed the storm
That same God
Is singing over me, he's singing over Me
The Worthy One calls me worthy
The Holy One invites me in
The God of all the universe
Has given me a name
I'll be known as this
I am His
He drowns out
Old insecurities
He drowns out
The fear that lied to me
His strong love
Is defining me, You're defining me
The Worthy One calls me worthy
The Holy One invites me in
The God of all the universe
Has given me a name
I'll be known as this
I am His
All my imperfections
They've been washed by blood
You don't see my failures
You just see Your Son
Instead of guilt and shame and
All the ways I'm not enough
Christ is my redemption
I'm wrapped in perfect love