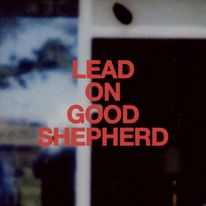 Stream this song titled "Lead On Good Shepherd" by worship American popular worship leader and song writer Patrick Mayberry.
In this song, Mayberry sings about the faithfulness and love of God, who is the good shepherd that leads us and cares for us through all of life's struggles. This reflects Jesus' teachings about the good shepherd, who watches over his flock, protects them from harm, and guides them to safety.
Mayberry's powerful voice and emotional delivery help to convey the depth of the song's message.
Take a beautiful listen here:
Lyrics to Lead On Good Shepherd by Patrick Mayberry
Well I've been turned 'round
But I've never been lost
Seen the water get troubled
But we walked across
When my knees were shaking
You held my hand
Turning my problems
To a promised land
Lead on, Good Shepherd
I'll follow all my days
There ain't nothing sweeter
Than to watch You make a way
You've walked me through the valley
But You never steered me wrong
So lead on good shepherd
Lead on
Seen some mighty deep canyons
That You brought me through
Seen some mighty big mountains
That just up and moved
Glory, glory hallelujah
Yeah, that's my song
Walking with my Father
Into the great unknown
Lead on, Good Shepherd
I'll follow all my days
There ain't nothing sweeter
Than to watch You make a way
You've walked me through the valley
But You never steered me wrong
So lead on good shepherd
Lead on
Step by step, day by day
Lead me on, Lord I pray
Road gets dark, walk by faith
Lead on Good Shepherd
Step by step, day by day
Lead me on, Lord I pray
Road gets dark, walk by faith
Lead on Good Shepherd
Lead on, Good Shepherd
I'll follow all my days
There ain't nothing sweeter
Than to watch You make a way
You've walked me through the valley
But You never steered me wrong
So lead on good shepherd
Lead on
Step by step, day by day
Lead me on, Lord I pray
Road gets dark, walk by faith
Lead on Good Shepherd
Step by step, day by day
Lead me on, Lord I pray
Road gets dark, walk by faith
Lead on Good Shepherd
Lead on Good Shepherd
Lean On