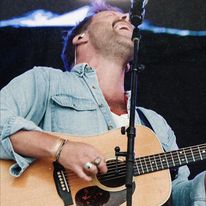 "Wild Faith" is another popular worship song that was recently released by Patrick Mayberry in his latest album titled Wild Faith.
Patrick Mayberry is a singer, composer, worship leader, and producer who has recorded three EPs and counting.
The lyrics of "Wild Faith" urge listeners to trust and follow God, even if it means stepping out of their comfort zones and taking risks. Mayberry encourages listeners to persevere even through difficult times, reminding them that God is faithful and will never leave them.
"Wild Faith" has been well received by Christian audiences, many of whom have found the song inspiring and empowering.
"Wild Faith," his first full-length album, is out now, so don't miss this.
Check it out by clicking on the link below:
Lyrics to Wild Faith by Patrick Mayberry
Wild faith
It can't be tamed
It ain't house broke
Sure ain't safe
But believe me oh
Believe me
Wild faith
Is the better way
Wild faith
It don't come cheap
It's gonna cost you
But it'll set you free
Believe me oh
Believe me
Wild faith
Is the better way
Every step you make its gonna take courage
For heaven's sake you bet it's gonna be worth it
Out there in the wilderness, your purpose finds its place
All it takes, all it takes is a little wild faith
Deep down
You know it's true
He's not finished
He's not done with you
Believe me oh
Believe me
Every step you make its gonna take courage
For heaven's sake you bet it's gonna be worth it
Out there in the wilderness, your purpose finds its place
All it takes, all it takes is a little wild faith
Lift up your hands again
There's seas still needing parting
Get out in the field again
It's time for the harvest
Leave the boat behind
Comfort's overrated
Reignite the fire
A new things out there waiting
Walk by faith not sight
Get back in that fight
Faith is multiplied
That power's still alive
That power's still alive
Every step you make its gonna take courage
For heaven's sake you bet it's gonna be worth it
Out there in the wilderness, your purpose finds its place
All it takes, all it takes is a little wild faith
Just a little wild faith
A little wild faith