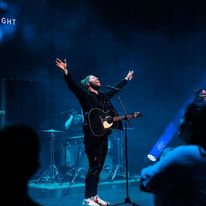 Patrick Mayberry's song "A Million Times" talks on God's faithfulness and how He has continued to show us His love throughout our lives.
Mayberry sings of how God has given him His love and grace "a million times." The song urges the listener to reflect on their own lives and realise how God has been faithful and kind to them even in terrible times.
"A Million Times" has been favourably appreciated by the Christian music community since its debut.
Don't miss out on this:
Click on the link below to take a good listen:
Lyrics to A Million Times by Patrick Mayberry
I've seen my fair share of ups and downs
I've walked some hard miles on shaky ground
But from the place that I am standing now
It's clear to see
You were right there with me
All You've ever been
All You ever will be
All You ever are, is faithful, faithful
At least a million times
I've seen it with my own eyes
All You've ever been is
Faithful, faithful
I've had plenty and I've seen drought
I've been on fire and I've burned out
But from the place that I am standing now
It's clear to see You were right there with me
As sure as the sun's coming up every morning
I'm sure of the promise my Father is for me
His grace, His kindness, His favor keeps coming
What a faithful, faithful God