writer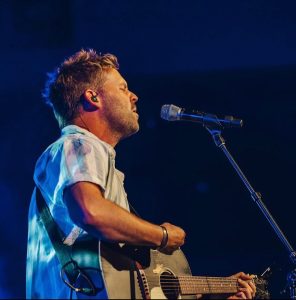 Patrick Mayberry is a worship leader and songwriter resident in Chicago, Illinois.
His love of music began early in life, and it has propelled him to live out his dream of being an intensely passionate worship leader and gospel music enthusiast.
Mayberry has therefore travelled the world leading worship at various churches, conferences, and events. His ability to write songs, together with his passion for encouraging others to encounter God's love, have contributed to his success throughout the years.
Among the tracks he has released are "Joyful," "Breakthrough," and "Surrender."
Don't miss out on this. Click on the link below to have a beautiful listen:
Lyrics to Never Stop Singing by Patrick Mayberry
There's a song
A song that Heaven's singing
It's the sound
Of the angels and the saints
There is worship
That's never ever ending
And it's the same song
We sing today
We cry holy holy
Is the Lord God Almighty
The One who was and is and is to come
All glory, honor and power
To the One who's seated on the throne
And reigns forevermore
We'll never stop singing
There's a Father
Who's opened up His kingdom
Thеre's a Son
Whose life has madе the way
There's a Spirit
Pouring out freedom
And that same God
We praise today
We cry holy holy
Is the Lord God Almighty
The One who was and is and is to come
All glory, honor and power
To the One who's seated on the throne
And reigns forevermore
We'll never stop singing
We'll never stop singing
All praise is Yours
We cry holy holy
Is the Lord God Almighty
The One who was and is and is to come
All glory, honor and power
To the One who's seated on the throne
And reigns forevermore
We'll never stop singing
We'll never stop singing
All praise is Yours