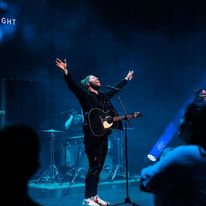 American singer, songwriter, worship leader and producer Patrick Mayberry who has released three EPs, including "Holy Spirit Come," is out again now with this beautiful song titled "Easy To Praise".
"Easy To Praise" is among the ten hit tracks in his recently released album titled "Wild Faith" which was released this year 2023.
The song has been the talk of town, since its release and it has been widely accepted by gospel music lovers and fans.
Don't be found missing in action with this update.
Click on the link below now to check out the official music video and take a beautiful listen:
Lyrics to Easy To Praise by Patrick Mayberry
It's not hard to give the glory
To the one who changed my life
It's like a river running
And it won't run dry
Oh it's simply overflowing
From the joy deep down inside
It's not hard to give the glory
To the one who changed my life
Hallelujah my song for all my days
Hallelujah all to the God who saves
Jesus Christ my savior
I'd be lost without your grace
You make it easy, easy, so easy to praise
So I'll praise you in the morning
I'll praise you through the night
All my life I'm praising
Til the day I die
Then it's only just beginning
I'll join the mighty roar
Of heaven singing worthy worthy
Is the Lord
When I was in the grave You called my name
My heart woke up and out I came
Into life with a fresh new faith
A whole new start, my past erased
You placed my feet on solid rock
And showed me love that will never stop
You put a new song in my mouth
A hymn of praise And now I'm gonna let it out
Hear me shout
I am Free, free indeed
Christ alive, alive in me
I can't help but sing