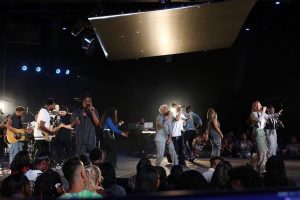 Hurray! It's brand new. Maverick City has dished another amazing dish of goodness to the world. Check out this enthralling song titled 'Yet' by Maverick City. This wonderful song really deserves a place on your playlist. Maverick City is an American gospel music group which is known for unique sound and amazing dedication to presenting awesome songs over the years.
"Yet" is a brand new release from their stables. This time, they feature Chandler Moore, a famous talented American gospel artiste.
The official video and lyrics of this song are available to assist you sing alongside. This inspiring track promises to uplift you and transmit you to a glorious atmosphere full of bliss. So, don't hesitate to give it a listen today!
Use the link below to watch the video of 'Yet'.
Lyrics to Yet by Maverick City ft. Chandler Moore
(Verse 1)
God, don't give up on me yet
I know I'm not Your best bet
But I'm trying
So don't give up on me yet
(Verse 2)
And God, don't leave me here alone
I know I need to grow, still
And I'm trying
But don't leave me here alone
(Chorus)
I know I've come so far
But got so far to go
And with these brand-new scars
And this broken heart
It's hard to really know
If there's a reason
And if I'll ever see it
But I wanna believe it
So don't give up on me yet
(Verse 3)
God, I know it makes no sense
You lovе me time and time again
But I still need rеminding
Yeah, I know it makes no sense
(Chorus)
I know I've come so far
But got so far to go
And with these brand-new scars
And this broken heart
It's hard to really know
If there's a reason
And if I'll ever see it
But I wanna believe it
So don't give up on me yet
(Tag)
His Grace will never Run Out
There's enough to go round and round
His loves an ocean where your shame is drowned
If you know what he knows , then you know!
He won't give up on you
Don't give up on me (Oh)
Don't give up on me (Ooh)
Don't give up on me (Oh) (Don't give up)
Don't give up on me
(Bridge)
Don't give up (Don't give up on me)
Don't give up on me
Don't give up (Oh) (Don't give up on me)
Don't give up on me
Don't give up (Don't give up)
Don't give up on me
Don't give up (Don't give up on me)
(Verse 4)
God, I know I'm not the same
But You knew that I would change
And I think that You're trying
To tell me it's okay
(Chorus)
I know I've come so far
But got so far to go
And with these brand-new scars
And this broken heart
It's hard to really know
If there's a reason
And if I'll ever see it
But I wanna believe it
So don't give up on me yet
Don't give up on me yet
Don't give up on me yet