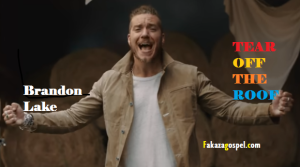 Brandon Lake – TEAR OFF THE ROOF featuring The Chosen.
Brandon Lake is a gospel singer and worship leader, who gained his recognition as a member of the Bethel Music member and a collaborating co writing on worship albums project.
His music has a way of resonating with the Christians worship community, thanks to his powerful melodies and inspiring messages. This time his has created a new single titled "TEAR OFF THE ROOF".
Video: TEAR OFF THE ROOF by Brandon Lake ft. The Chosen
Lyrics to TEAR OFF THE ROOF by Brandon Lake ft. The Chosen
Tear off the roof
The King's in the house
Just get me to Jesus
I don't care how
I don't have to wait to get the healing
I gotta faith without a ceiling
So tear off the roof
'Cause the King's in the house
There's power in the presence
Power in the blood
Power in the name of Jesus
There's power in the presence
Power in the blood
Power in the name of Jesus
And He has more in the hem of His garment
Then the camp of the enemy
There's power in the presence
Power in the blood
Power in the name of Jesus
I didn't come here to hide in the crowd
I'm pressing through to you
I don't care how
Reaching out my hand to get the healing
I've got a faith beyond the bleeding
'Cause I didn't come here to hide in the crowd
Oh
There's power in the presence
Power in the blood
Power in the name of Jesus
There's power in the presence
Power in the blood
Power in the name of Jesus
He has more in the hem of His garment
Then the camp of the enemy
There's power in the presence
Power in the blood
Power in the name of Jesus
There's power in the name of Jesus
There is a life changing
Grave shaking
Dead raising power in the room
Heart-healing
Hell-stealing
No ceiling power
So tear off the roof
Life changing
Grave shaking
Dead raising power in the room
Heart-healing
Hell-stealing
No ceiling power
So tear off the roof
Life changing
Grave shaking
Dead raising power in the room
Heart-healing
Hell-stealing
No ceiling power
So tear off the roof
Life changing
Grave shaking
Dead raising power in the room
Heart-healing
Hell-stealing
No ceiling power
So tear off the roof
Tear off the roof
Tear off the roof
'Cause here's power in the presence
Power in the blood
Power in the name of Jesus
There's power in the presence
Power in the blood
Power in the name of Jesus
He has more in the hem of His garment
Then the camp of the enemy
He has more in the hem of His garment
Then the camp of the enemy
There's power in the presence
Power in the blood
Power in the name of Jesus
In the name of Jesus
So much power in the name of Jesus