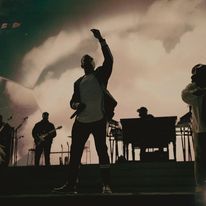 Stream this beautiful song titled 'Somebody's Son' by Kirk Franklin. This impressive song deserves a place on your playlist. Kirk Franklin is an American gospel music artiste who has been committed to offering beautiful songs over the years.
This song titled 'Somebody's Son' is just one of his numerous beautiful songs. The lyrics of this song is available to assist you sing alongside the song.
The official video of this song is also available. This inspiring song promises to uplift you. So, don't hesitate to give it a listen today!
Use the link below to watch the video of 'Somebody's Son'.
Lyrics to Somebody's Son by Kirk Franklin
I was born a mistake
A sin they couldn't erase
A secret hidden half a century
I look for you
Do I look like you?
Questions children cry out in their sleep
I'd give up every trophy that I've won
Just to be somebody's son
Every wrong, I did it
Failures, I admit it
Consequences now belong to me
But who knew me not having you
Would force me to see love so differently
Fighting battles few have ever won
Truly, you're somebody's son
It makes sense
I'm running, I'm chasing, I'm falling
It makes sense
These demons, these strongholds, unbroken
It makes sense
We're searching for a mother's love
Step two is pointless when you're stuck at one
Until you're somebody's son
It makes sense
I'm running, I'm chasing, I'm falling
It makes sense
These demons, those strongholds, unbroken
It makes sense
We're searching for a mother's love
Step two is pointless when you're stuck at one
Until you're somebody's son
Why, oh why
Did You keep them far away?
How much more do I have to pay?
Why, oh why
You ignore the prayers I pray?
Habits come from past mistakes
With each limp, my race I have to run
But I guess so did Your Son