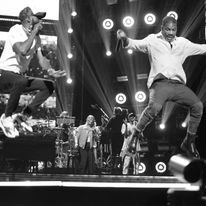 Kirk Franklin is a gospel musician, singer, songwriter, choir director, and author from the United States. Throughout his career, he has received numerous Grammy honours, Dove Awards, and other music honours.
Franklin is best recognised for transforming and rekindling gospel music by blending numerous music genres such as R&B, hip hop, and pop, hence enhancing gospel music's visible appeal. Since his career began in the early 1990s, he has published multiple albums and collaborated with many musicians.
Aside from music, Franklin is a social activist who has worked on programmes to help poor children and communities.
This time, he is out with this enthralling masterpiece, titled "Try Love".
Do not let this chance slip away. Act quickly and utilize this link to stream, download, and listen without hesitation.
Lyrics to Try Love by Kirk Franklin
This is your day love
This is the day that you can't get away
I been waiting all day love (I been waitin' on ya)
Waiting for your embrace love (Hello love)
This is the day love (Everybody's searching for you)
Every prayer that I prayed, feelings I can't escape
(Everywhere there's pain, we been missin' ya)
It's so hard to explain love (We need you more than ever before)
Still it's a beautiful day love (I know I do)
It's a beautiful day
See I admit, I didn't know much
Much about love, the way it was supposed to be
I was born into a world so cold
How I could I forget (Let's go)
The many dark days
The times I felt betrayed, by the ones that were supposed to love me
It's the only kind of love I've known (Truth is)
That's the reason why alove that's born to die is so hard to believe
(You don't throw us away)
So maybe I'll take a chance and try love (Yeah)
Don't say goodbye love (C'mon)
This is your day love
This is the day that you can't get away
I been waiting all day love (How ya doin' love)
Waiting for your embrace love (It feels so good to see ya)
This is the day love
Every prayer that I prayed, feelings I can't escape
It's so hard to explain love (You're like a mystery)
Still it's a beautiful day love (Talk to 'em)
It's a beautiful day
See I admit today's kinda love ain't the same kinda love
This one leaves you feeling empty (Ha, you can keep that mid love)
I don't wanna be let down again (Ey)
I been around the world and I-I-I, know it's going crazy
I cried so many nights and I-I-I, need someone to save me
No greater love or sacrifice (Love)
Love on the cross You paid the price (C'mon)
That's why I trust You with my life, and I take the chance and try love
Don't say goodbye love
This is your day love (C'mon)
This is the day that you can't get away
I been waiting all day love
Waiting for your embrace love
This is the day love
Every prayer that I prayed, feelings I can't escape
It's so hard to explain love
Still it's a beautiful day love
It's a beautiful day
If I didn't get it right yesterday
You've given me a chance to try love again (Yes it's a beautiful day)
Even though live didn't start out easy
That's not the way it has to end (Yes it's a beautiful day)
See, I learned love's not the enemy
But I had to look deep down within (It's gonna be a beautiful day)
For God so loved the world
Now let's let real love begin
My love never disappears
My love
Like always everyday feel this love
Get out and touch somebody
Love somebody
Hold somebody
Get out and touch somebody
Love somebody
Hold somebody
Get out and touch somebody
Love somebody
Hold somebody
Don't you know that you just may be the only Jesus that they see
Get out and touch somebody
Love somebody
Hold somebody
Get out and touch somebody
Love somebody
Hold somebody
Get out and touch somebody
Love somebody
Hold somebody
Don't you know that you just may be the only Jesus that they see
Get out and touch somebody
My love never disappears
My love, loves to draw you near
Forget every scar and fears
Like always everyday feel this love that I made for you