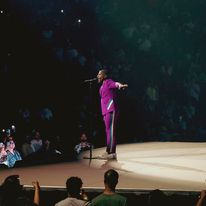 Check out this peculiar song titled 'You Still Love Us' by Kirk Franklin. This amazing song deserves a place on your playlist. Kirk Franklin is an American gospel music who has been committed to offering beautiful songs over the years.
"You Still Love Us" is just one of her numerous songs which has gotten her fans so impressed and always anticipate her new projects.
The lyrics of this song is available to assist you sing alongside. The official video of this song is also available. This inspiring track promises to uplift you and transmit you to a glorious atmosphere full of bliss. So, don't hesitate to give it a listen today!
Use the link below to watch the video of 'You Still Love Us'.
Lyrics to You Still Love Us by Kirk Franklin
[Chorus]
I mess up, I
Fall short, I
Fail often, but God, You love us
Mistakes and lose faith, but
By grace I see, God, You love us
[Bridge]
I can't deny
When I let You down, it hurts deep inside
So forever I try
To give You what You give me, it keeps blowing my mind
Time after time
That You love us
[Verse 1]
I do right, I
Do wrong, life
Spins me 'round and 'round (Come on)
As soon as I (I get up)
Get up the (What happens?)
Old me knocks me down
What feels good to me, ain't good for me, I remind myself
But You're so patient with me
You motivate me to do better
I'll be singing this forever
When I
[Chorus]
I mess up, I (I fall short)
Fall short, I (I fail)
Fail often, but God, You love us (But Make)
Mistakes and lose faith, but (What happens?)
By grace I see, God, You love us (Thank you)
[Bridge]
I can't deny
When I let You down, it hurts deep inside
So forever I try
To give You what You give me, it keeps blowing my mind
Time after time
That You love us (Say it again)
[Verse 1]
I do right, I (I do wrong)
Do wrong, life (Life)
Spins me 'round and 'round (I'm trying)
As soon as I (I get up)
I get up
Get up the (What happens?)
Old me knocks me down
What feels good to me, ain't good for me, I remind myself
But You're so patient with me (Thank you)
You motivate me to do better
I'll be singing this forever when I
[Chorus]
I mess up, I (I fall)
Fall short, I (I fail)
Fail often, but God, You love us (Thank You)
Mistakes and lose faith, but
By grace I see, God, You love us
I can't deny
When I let You down, it hurts deep inside
So forever I try
To give You what You give me, it keeps blowing my mind (And I Thank You)
Time after time (Yes)
That You love us
[Interlude]
Since I was a kid, I heard about You
Was taught to fear Your name and never doubt You
But honestly, I couldn't be around You
Without thinking that all You ever saw was my wrong
It's crazy, I thought You exist to judge me
But now I see that You created me to love me
Finally, forget what they said about You
Now You have my heart, it's where You belong (Yeah)
Have my heart, it's where You belong (I tell you)
[Chorus]
I mess up, I (Fall)
Fall short, I (I fail)
Fail often, but God, You love us (You don't give up on me)
(I appreciate it) Mistakes and lose faith, but
By grace I see, God, You love us
I can't deny (Whew)
When I let You down, it hurts deep inside
So forever I try
To give You what You give me, it keeps blowing my mind (Huh)
Time after time (Yes, sir)
That You love us
[Post-Chorus]
(It's amazing to me how You display) That You love us
(In a tapestry of beautiful ways) How You love us
(Even when I take advantage of grace) Amazed You love us
(That I hear You say) You still love us
(Every single day) God You love us
(It's amazing to me how You display) That You love us
(In a tapestry of beautiful ways) How You love us
(Even when I take advantage of grace) Amazed You love us
(That I hear You say) You still love us
(Every single day) God You love us
[Outro]
I'm forever amazed, You take time to love us
(When I mess up too much to come back home) Still You love us
So thankful every day, in all ways, You love us
You love us, You love us