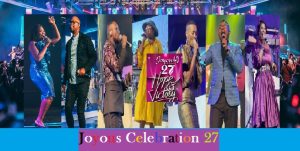 The 27th volume of the well-known South African gospel music group "Joyous Celebration" is titled "Hope and Victory." A remarkable group of South African vocalists will deliver a selection of inspirational gospel tunes on the album, which will be released in 2023.
Joyous Celebration is a South African gospel music group that was formed in 1994. The group is known for its high-energy performances, soulful vocals, and uplifting message. Over the years, Joyous Celebration has become one of the most popular and influential gospel music groups in South Africa, with a massive following both in South Africa and around the world.
The group has released over 26 albums since its inception, with each album featuring a collection of original gospel songs performed by a talented ensemble of singers. The music of Joyous Celebration is characterized by its fusion of traditional gospel sounds with contemporary styles such as jazz, R&B, and African pop music.
Joyous Celebration is more than just a music group, it has become a cultural institution in South Africa. The group's music is often featured in religious and cultural events, and the group's annual concerts are highly anticipated events that draw large crowds from all over the country.
This time Joyous celebration 27 album aims to inspire hope and celebrate the victory of the human spirit over adversity, particularly in light of the challenges posed by the COVID-19 pandemic. It includes a mix of traditional and contemporary gospel songs, with themes ranging from praise and worship to thanksgiving and reflection.
Some of the standout tracks on the album include "Ngena Nathi" "Alikho Elinye Ithemba ," "God you Reign," and "I will follow you," among others. The news and information of the said album has been well-received by fans of the "Joyous Celebration" series and has garnered critical acclaim for its powerful messages of hope and victory.
Full List Of Tracks: Hope and Victory Album by Joyous celebration 27.