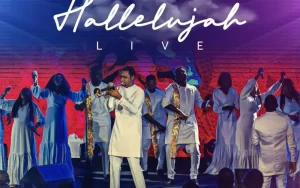 Prolific Nigerian gospel music artiste, song writer, trumpeter, and pastor Nathaniel Bassey has served a very hot dish of praise to bless the world. Be a part of this blessing by checking out Nathaniel Bassey's "Hallelujah Live" album for free. The collection features a set of divinely inspired songs.
The highly anticipated album features famous gospel musicians from different parts of the world, namely: Mercy Chinwo, Victoria Orenze, Ntokozo Mbambo, Nqubeko Mbatha, William McDowell, Sinach, Abigail Bassey, and Aidee Ime.
The "Hallelujah Live" album consists of 16 anointed gospel songs that last for over 2 hours and 30 minutes, making it a huge project.
The album takes listeners on a beautiful and awesome journey of praise and worship, capturing the glorious energy and spirit of live gospel performances. It brings the experience of a powerful worship service right into your home.
Don't just be told. Click on the links below to check out this awesome pack of goodness, relish each track and be engrossed with the presence of God.
Tracklist of Hallelujah Live (Full Album) by Nathaniel Bassey
1. Nathaniel Bassey – Tobechukwu Ft. Mercy Chinwo|| Mp3 Download
2. Nathaniel Bassey – Hallelujah Anthem || Mp3 Download
3. Nathaniel Bassey – Sound Of Many Waters Ft. Nqubeko Mbatha || Mp3 Download
4. Nathaniel Bassey – Fountain Of Mercy Ft. Sinach || Mp3 Download
5. Nathaniel Bassey – Hallelujah Praise The Lord Ft. William McDowell || Mp3 Download
6. Nathaniel Bassey – Hallelujah Praise The Lord (Overflow) || Mp3 Download
7. Nathaniel Bassey – We Honour You || Mp3 Download
8. Nathaniel Bassey – There Is A Sound || Mp3 Download
9. Nathaniel Bassey – So Beautiful || Mp3 Download
10. Nathaniel Bassey – Ese Ft. Aidee Ime || Mp3 Download
11. Nathaniel Bassey – Hallelujah Chant Ft. Ntokozo Mbambo || Mp3 Download
12. Nathaniel Bassey – Ebenezer Ft. Victoria Orenze || Mp3 Download
13. Nathaniel Bassey – Deserving Ft. Ntokozo Mbambo & Mercy Chinwo || Mp3 Download
14. Nathaniel Bassey – Glory And Honour Ft. Abigail Bassey || Mp3 Download
15. Nathaniel Bassey – Let Your Fire Fall Ft. Victoria Orenze || Mp3 Download
16. Nathaniel Bassey – Mercy Declaration || Mp3 Download