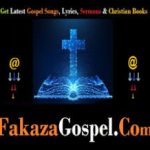 Gift Ugochi Christopher 'GUC', now known as Minister GUC is a famous Nigerian gospel singer and songwriter. He started his musical journey at a young age as he became a member of the choir in his local church. He improved on his skills and became better as time went on.
Minister GUC's debut album, "Desperate", quickly became a hit and gained him national recognition. Some of his other popular songs include "All That Matters", "The Promise", "Your Presence", and "Desperate". His music has been acknowledged as deeply spiritual, leaving listeners in awe of the presence of God.
He is a highly sought-after gospel artiste, popularly known for his anointed stage performances that leave his audience yearning for more. Here he is again with this beautiful chant captioned "The Call". This chant is a call for prayer and should not be found wanting in your playlist.
Hurry now to stream and download this recently served hit by clicking on the links below.
Lyrics to The Call (Chants) by Minister GUC
OH OH OH OH OH OOH
IYE NAH NAH, IYE NAH NAH
OH OH OH OH OH OOH
IYE NAH NAH, IYE NAH NAH
OH OH OH OH OH OOH
IYE NAH NAH, IYE NAH NAH
OH OH OH OH OH OOH
IYE NAH NAH, IYE NAH NAH
OH OH OH OH OH OOH
IYE NAH NAH, IYE NAH NAH
OH OH OH OH OH OOH
IYE NAH NAH, IYE NAH NAH
There′s a People Rising
There's a People Rising
Very Un Assuming
There′s a People Rising
Nations calling from
Very Unassuming
They are Coming
From the East
They are Coming
From the West
They are the Ones
That will Lift His name High
They are Coming
From the North
They are Coming
From the South
They are the Ones
Yahweh's Delight
They are Coming
From the East
They are Coming
From the West
They are the Ones
That will Lift His name High
They are Coming
From the North
They are Coming
From the South
They are the Ones
That will Lift His name High
They are Coming
From the East
They are Coming
From the West
They are the Ones
That will Lift His name High
They are Coming
From the North
They are Coming
From the South
They are the Ones
That will Lift His name High
OH OH OH OH OH OOH
IYE NAH NAH, IYE NAH NAH
OH OH OH OH OH OOH
IYE NAH NAH, IYE NAH NAH
OH OH OH OH OH OOH
IYE NAH NAH, IYE NAH NAH
OH OH OH OH OH OOH
IYE NAH NAH, IYE NAH NAH
They are Coming
From the East
They are Coming
From the West
They are the Ones
That will Lift His name High
They are Coming
From the North
They are Coming
From the South
They are the Ones
That will Lift His name High
They are Coming
From the East
They are Coming
From the West
They are the Ones
That will Lift His name High
They are Coming
From the North
They are Coming
From the South
They are the Ones
That will Lift His name High
AH AH AH AH AH AH
IYE NAH NAH, IYE NAH NAH
AH AH AH AH AH AH
IYE NAH NAH, IYE NAH NAH
IYE NAH NAH, IYE NAH NAH
IYE NAH NAH, IYE NAH NAH