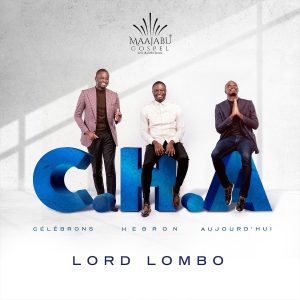 Lord Lombo's latest gospel song "Boussole" is now available for streaming and download. This inspiring song promises to uplift you and add to your gospel music collection. So, don't hesitate to give it a listen today!
"Lord Lombo" is a worship leader, pastor, singer, and songwriter from the Democratic Republic of the Congo. He has more than 900k Facebook fans, making him a highly well-known figure in the African gospel music scene. By working with numerous other gospel singers, Lord Lombo has also increased his audience on a global scale.
"Boussole" is a single contained in the recently released album captioned "C.H.A. (Célébrons Hebron Aujourd'hui)".
Don't miss out on this amazing collection of greatness. Please take a time to click on the links below to listen to this beautiful music.
Lyrics to Boussole by Lord Lombo and Patient Munghongwa
C′est avec Dieu que j'ai décidé
De faire ma vie
C′est avec Lui que j'ai décidé
De faire ma vie
Ça a pris du temps pour que je réalise
Ça m'avait l′air vraiment impossible
Mais avec le temps
J′ai su ce qu'il fallait pour moi
Oh yeah
La confusion prend place dans nos esprits
Pourtant l′on sait qu'il faut compter sur Dieu
Le vrai guide parfait
L′auteur de toute existence
Il est ma boussole
Il est ma boussole sûre
Il est ma boussole
Il est mon guide parfait
Quand je n'ai plus de repère
(Il est ma boussole il est ma boussole sûre)
Na talelaka yesu Aah (Il est ma boussole il est mon guide parfait)
Quand je me perds dans mes problèmes
Na talelaka Yesu ah
(Il est ma boussole il est mon guide parfait)
Quand je n′ai plus de repère, na talelaka Yesu ah
C'est avec Dieu que j'ai décidé
De faire ma vie
C′est avec Lui que j′ai décidé
De faire ma vie
Ça a pris du temps pour que je réalise
Ça m'avait l′air tellement impossible
Mais avec le temps
J'ai su ce qu′il fallait pour moi
Il est le pilier qui soutient ma vie
Il est mon appui et mon abris sûr
Quand je me sens rejeté
(Il est pilier qui soutient ma vie)
Na talelaka Yesu ouh
(Il est mon appui et mon abris sûr)
Quand je me sens méprisé (natalelaka Yesu)
Ouh (Il est mon appui et mon abris sûr)
Quand je n'ai plus de force
(Natalelaka Yesu ah)
(Il est mon appui et mon abris sûr)
Eh eh eh