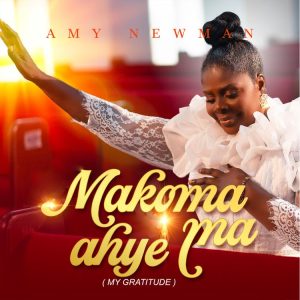 Reverend Amy Newman is a gifted Ghanaian music artiste and a celebrated hitmaker with several chart-topping songs to her name. Her newest piece, "Makoma Ahye Ma (My Gratitude)", is a 2023 release that promises to be a standout in the Ghanaian Gospel music scene.
In this track, Reverend Newman expresses her heartfelt gratitude to God through beautiful lyrics that is sure to touch the hearts of every listener.
"Makoma Ahye Ma (My Gratitude) by Amy Newman" is a beautiful song that perfectly blesses the soul as thanks is being rendered to God. As you listen to the song, you will connect with God and be filled with gratitude  for all things.
Be sure to stream the audio and share the link with friends and loved ones, as this is one song that you won't want to miss.
Lyrics to Makoma Ahye Ma (My Gratitude) by Amy Newman
Verse 1
You are not a man
That you could lie
You hand is not short
That it won't save
You made way
Where there is no way
You so gracious
And compassionate
You lifted me
You lifted me
And then you set my feet
And then you set my feet
On thé rock
You lifted me
You lifted me
And then you set me feet
Chorus
Makoma ahye ma
Eye ayeyi ne ndase
Eye ntontom nyi nhyira
na mede da wo ase
Verse 2
You're the God
That changed not
You never leave us
Nor forsake us
Our father of light
And eternal hope
Though it will tarri
It will Surly come
You lifted me
You lifted me
And then you set my feet
And then you set my feet
On thé rock
You lifted me
You lifted me
And then you set me feet
Chorus
Makoma ahye ma
Eye ayeyi ne ndase
Eye ntontom nyi nhyira
na mede da wo ase
Bridge
I could have been lost and blind
If not for your grace
I'm soo grateful
Soo grateful
I could have been lost and blind
If not for your grace
I'm most grateful
Soo grateful
Chorus
Makoma Ahye ma
Eye ayeyi ne ndase
Eye ntontom nyi nhyira
na mede da wo ase