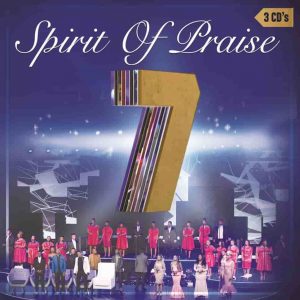 Full Albums Free Download Spirit of Praise Spirit of Praise 7 Mp3.
GENRE: South African Gospel.
FORMAT: Mp3.
QUALITY: 320 Kbps.
YEAR: 2019.
SIZE: 3.0 each MB.
Spirit of Praise Spirit of Praise 7. South African music choir group, "Spirit of Praise"  under Spirit Music records came through with a new Three CD album made up of 25 tracks which they title Spirit of Praise 7.
Gospel is the past-days, present-day and the future-to-come guildline to eternity and the prevention to hell, hope for tomorrow to those with faith and straight to the weak, a double edged sword to the listeners  and also a visual to the sightless.
Sing aloud gospel songs unto God our strength make a joyful noise unto the God of Jacob with gospel melody's to an agreeable harmony for the honor of Jehovah and the permissible delights of the soul.
Let his faithful people rejoice in this honor and sing for joy. Gospel Music is Life and the message of  Yahweh to his People.
Full Tracklist:
1st CD
1: Spirit of Praise – Prelude – The King On the Cross || Download Mp3
2: Spirit of Praise – God's Love Is Greater ft. Tshepang || Download Mp3
3: Spirit of Praise – No One Can ft. Women In Praise) || Download Mp3
4: Spirit of Praise – I'm Never Alone ft. The Dube Brothers || Download Mp3
5: Spirit of Praise – Impilo Yami ft. Nothando || Download Mp3
6: Spirit of Praise – Yingakho Ngicula ft. Dumi Mkokstad || Download Mp3
7: Spirit of Praise – O Molimo ft. Omega Khunou || Download Mp3
8: Spirit of Praise – Ke Mang ft. Neyi Zim || Download Mp3
9: Spirit of Praise – Lonile iBandla ft. Benjamin Dube || Download Mp3
2nd CD
1: Spirit of Praise – Ekugcineni ft. Thinah Zungu || Download Mp3
2: Spirit of Praise – Una Ndavha ft. Takie Ndou || Download Mp3
3: Spirit of Praise – Shine Jesus Shine ft. Collen Maluleke || Download Mp3
4:  Spirit of Praise – Yahweh We Worship ft. Bongi Damans || Download Mp3
5: Spirit of Praise – Make a Way ft. Mmatema || Download Mp3
6: Spirit of Praise – Nasempini ft. Ayanda Ntanzi || Download Mp3
7: Spirit of Praise – Ebenezer ft. Sipho Ngwenya|| Download Mp3
3rd CD
1: Spirit of Praise – Walk Upon the Water (feat. Zinzi & Benjamin Dube) || Download Mp3
2: Spirit of Praise – Here I Am (feat. Mmatema & Collen Maluleke) || Download Mp3
3: Spirit of Praise – Jesus Is Mine (feat. Dumi Mkokstad & Takie Ndou) || Download Mp3 
4: Spirit of Praise – Oxygen (feat. The Dube Brothers & Tshepang) || Download Mp3
5: Spirit of Praise – I Choose Jesus (feat. Bongi Damans & Benjamin Dube) || Download Mp3
6: Spirit of Praise – You Remain (feat. Women In Praise & Neyi Zimu) || Download Mp3 
7: Spirit of Praise – Yehla Nkosi/Jesu Unamandla (feat. Neyi Zimu & Omega Khunou) || Download Mp3
8: Spirit of Praise – Qina (feat. Sipho Ngwenya, Nothando & Omega Khunou) || Download Mp3
9: Spirit of Praise – Ngaphandle Kokuthi (feat. Thinah Zungu & Ayanda Ntanzi) || Download Mp3