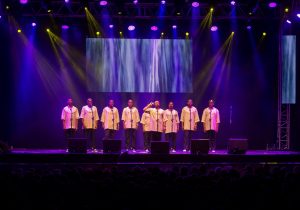 Ladysmith Black Mambazo is a South African acappella singing group, best known for their harmonious and excellent vocals.
Ladysmith Black Mambazo has gone on to become one of South Africa's most successful musical exports, having won five Grammy awards and toured around the world. They have collaborated with various artists, including Paul Simon on his Graceland album, where they featured on the hit song "Diamonds on the Soles of Her Shoes".
"Joy, Peace and Happiness" is one of their enthralling projects which is a collection of songs in South African Churches. Their melodious and deeply harmonious vocsals made this song a perfect addition to playlist. So, if you're a good music enthusiast, his should not be found wanting on your playlist.
Kindly click on the list below to check this out: