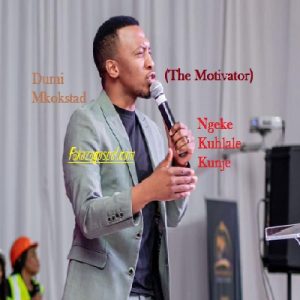 Download Dumi Mkokstad – Ngeke Kuhlale Kunje Mp3 Ft. Thulani (The Motivator)
Dumi Mkokstad is a singing Prowess, who possesses a powerful and soul-stirring voice that resonates deeply with listeners, making him a standout in the gospel music genre. At his youthful age He has achieved significant success at a young age, solidifying his place as one of South Africa's most celebrated gospel musicians.
Dumi is not only a gifted vocalist but also a talented songwriter, composing songs that are both spiritually uplifting and emotionally moving. His music carries messages of faith, hope, and worship, touching the hearts of his audience and spreading positivity.
Adding to his collection of songs is this new single called "Ngeke Kuhlale Kunje featuring "Thulani (The Motivator)" Take a Listen below and share your opinions