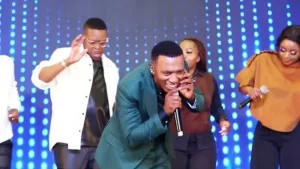 Listen and download this enthralling song dished out recently by South African gospel musician Dumi Mkokstad which is titled "Angimbonanga"
The Zulu song's English translation of its Zulu lyrics is "I Have Not Seen." It is a sincere declaration of dependence on God and longing for His presence.
Dumi's voice is strong, and he uses it to communicate his passion in a way that shows how deeply he yearns for God. Do not be left out.
Click on the links below to stream and download for free.
Lyrics to Angimbonanga by Dumi Mkokstad
Hayi hayi hayi, hayi angimbonanga (No, no, no, I have not seen)
Hayi hayi hayi, hayi angimbonanga (No, no, no, I have not seen)
Akekho ofana Naye (There is no one like Him) (Repeat)
Akekho ofana Naye (There is no one like Him) (Repeat)
Hallelujah, Hallelujah
Akekho ofana Naye (There is no one like Him) (Repeat)
(From the Top)
Akekho ofana Naye (There is no one like Him) (Repeat)