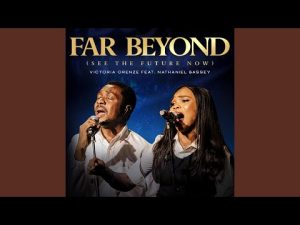 "Far Beyond" is a song by Victoria Orenze featuring Nathaniel Bassey. The two artistes are from gospel music singers frfom Nigeria.
"Far Beyond" is a powerful expression of faith in God, expressing a desire to know Him more intimately and to be in accordance with His will. Victoria Orenze's lovely voice and genuine prayers, along with Nathaniel Bassey's unique trumpet tone, create a happy and powerful sound.
The song's lyrics convey faith in God's power to do far more than can be seen or imagined. It is a worship song that reminds the audience of God's greatness and faithfulness and encourages them to entirely trust in Him. The song is a powerful invitation to worship.
Lyrics to Far Beyond by Victoria Orenze and Nathaniel Bassey
[Chorus]
What I thought
Was Unreachable
And I just couldn't see the how
(But something Happened)
Far Beyond my
Wildest Expectation
You did it
What I thought
Was Unreachable
And I just couldn't see the how
Far Beyond my Expectation
You did it
Now I can Sing
Of what You've Done
It is So Marvelous in my Sight
(Far Beyond)
Far Beyond my Expectation
You did it
[Verse 1]
What I thought
Was Unreachable
And I just couldn't see the how
(But something Happened)
Far Beyond my
Wildest Expectation
You did it
What I thought
Was Unreachable
And I just couldn't see the how
Far Beyond my Expectation
You did it
Now I can Sing
Of what You've Done
It is So Marvelous in my Sight
(Far Beyond)
Far Beyond my Expectation
You did it
[Verse 2]
What I thought
Was Unreachable
And I just couldn't see the how
(But something Happened)
Far Beyond my
Wildest Expectation
You did it
What I thought
Was Unreachable
And I just couldn't see the how
Far Beyond my Expectation
You did it
Now I can Sing
Of what You've Done
It is So Marvelous in my Sight
(Far Beyond)
Far Beyond my Expectation
You did it
[Chorus]
What I thought
Was Unreachable
And I just couldn't see the how
(But something Happened)
Far Beyond my
Wildest Expectation
You did it
What I thought
Was Unreachable
And I just couldn't see the how
Far Beyond my Expectation
You did it
Now I can Sing
Of what You've Done
It is So Marvelous in my Sight
(Far Beyond)
Far Beyond my Expectation
You did it
[Bridge]
What I thought
Was Unreachable
And I just couldn't see the how
(But something Happened)
Far Beyond my
Wildest Expectation
You did it
What I thought
Was Unreachable
And I just couldn't see the how
Far Beyond my Expectation
You did it
Now I can Sing
Of what You've Done
It is So Marvelous in my Sight
(Far Beyond)
Far Beyond my Expectation
You did it
[Chorus]
What I thought
Was Unreachable
And I just couldn't see the how
(But something Happened)
Far Beyond my
Wildest Expectation
You did it
What I thought
Was Unreachable
And I just couldn't see the how
Far Beyond my Expectation
You did it
Now I can Sing
Of what You've Done
It is So Marvelous in my Sight
(Far Beyond)
Far Beyond my Expectation
You did it
[Bridge 2]
What I thought
Was Unreachable
And I just couldn't see the how
(But something Happened)
Far Beyond my
Wildest Expectation
You did it
What I thought
Was Unreachable
And I just couldn't see the how
Far Beyond my Expectation
You did it
Now I can Sing
Of what You've Done
It is So Marvelous in my Sight
(Far Beyond)
Far Beyond my Expectation
You did it
What I thought
Was Unreachable
And I just couldn't see the how
(But something Happened)
Far Beyond my
Wildest Expectation
You did it
What I thought
Was Unreachable
And I just couldn't see the how
Far Beyond my Expectation
You did it
Now I can Sing
Of what You've Done
It is So Marvelous in my Sight
(Far Beyond)
Far Beyond my Expectation
You did it
[Bridge 3]
What I thought
Was Unreachable
And I just couldn't see the how
(But something Happened)
Far Beyond my
Wildest Expectation
You did it
What I thought
Was Unreachable
And I just couldn't see the how
Far Beyond my Expectation
You did it
Now I can Sing
Of what You've Done
It is So Marvelous in my Sight
(Far Beyond)
Far Beyond my Expectation
You did it
[Chorus]
What I thought
Was Unreachable
And I just couldn't see the how
(But something Happened)
Far Beyond my
Wildest Expectation
You did it
What I thought
Was Unreachable
And I just couldn't see the how
Far Beyond my Expectation
You did it
Now I can Sing
Of what You've Done
It is So Marvelous in my Sight
(Far Beyond)
Far Beyond my Expectation
You did it