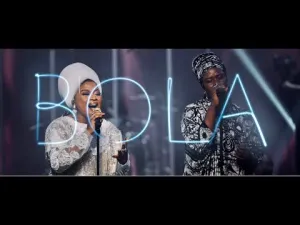 Sunmisola Agbebi is a Nigerian gospel singer and songwriter. "B'ola" is one of her popular songs, featuring renowned gospel singer, Sola Allyson.
"B'ola" is a Yoruba word that means "wealth has come." The song is a prayer of thanksgiving and celebration, acknowledging the goodness of God and His faithfulness in providing for His people. Sunmisola's soulful voice, combined with Sola Allyson's signature sound, creates a beautiful and uplifting atmosphere of worship.
The video features Sunmisola and Sola Allyson singing and dancing in a natural setting, surrounded by greenery and beautiful landscapes. The video also includes shots of children playing, symbolizing the joy and abundance that comes from God.
"B'ola" has been well-received by gospel music lovers and has become a favorite among those who appreciate the fusion of traditional and modern gospel sounds. The song has been performed by Sunmisola and Sola Allyson at various gospel concerts and events in Nigeria and beyond.
Take a beautiful listen here:
Lyrics to B'ola By Sunmisola Agbebi
Chants
Aye mi b'ola fun o jesu
Emi mi fi ogo fun o jesu
Aye mi b'ola fun o jesu
Emi mi fi ogo fun o jesu
Aye mi b'ola fun o jesu
Emi mi fi ogo fun o jesu
Aye mi b'ola fun o jesu
Emi mi fi ogo fun o jesu
Tongues
Chant
Aye mi b'ola fun o jesu
Emi mi fi ogo fun o jesu
Tongues
Aye mi b'ola fun o jesu
Emi mi fi ogo fun o jesu
Oba to ni mi, to da mi, to mo mi o
Oba to ni mi, to da mi, to mo mi o
Oba to ni mi, to da mi, to mo mi o
Oba to ni mi, to da mi, to mo mi o
Oba to ni mi, to da mi, to mo mi o