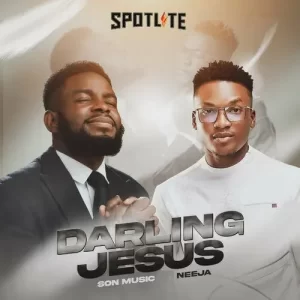 You can now download the remix of the popular gospel track "Darling Jesus" by S.O.N Music featuring Neeja.
S.O.N Music is a talented award-winning singer and songwriter who has made a name for himself in the Nigerian music industry.
The song "Darling Jesus" is an impressive and awesome rendition from the duo. Though we cannot trace the originality of the song, it has been on the list of every Nigerian home and school, especially during morning devotions.
This new remix featuring Neeja from the Spotlite Label is a beautiful expression of the love of God. You don't want to miss out on this impressive track, so kindly stream or download below and add it to your playlist.
Lyrics to Darling Jesus by Son Music – Darling Jesus ft. Neeja
Darling Jesus darling Jesus
oh my darling Jesus
you're wonderful Lord
I love you soooo much darling Jesus
oh my darling Jesus you're wonderful Lord
Darling Jesus you no dey fail oh…
oh darling Jesus
you're always on my case
na you dey give me joy
dey give me peace
dey give me grace
So I thank you my Jesus thank you my lord
Darling Jesus darling Jesus
oh my darling Jesus
you're wonderful Lord
I love you soooo much darling Jesus
oh my darling Jesus you're wonderful Lord
You never leave me
You never forsake me
I can count on you when everyone fails me you no dey tire to shower me with blessings so I love you my Jesus o
love you my Lord
Darling Jesus darling Jesus
oh my darling Jesus
you're wonderful Lord
I love you soooo much darling Jesus
oh my darling Jesus you're wonderful Lord