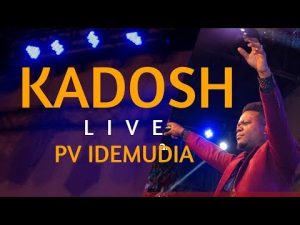 Take a listen to this awesome song that has captured the hearts of many and drawn them to God. The song is titled "Kadosh" by P. V..
Idemudia is a Nigerian gospel artist, songwriter, and worship leader. He is known for his unique style of gospel music. Idemudia was born in Benin City, Edo state, Nigeria, and started singing at a young age.
He has since become a highly respected gospel artist in Nigeria and beyond. Idemudia has released several albums over the years and he is known for his powerful, anointed voice and his ability to draw many to Christ through his worship sessions.
Here are the links to stream, listen and download these songs.
Lyrics to Kadosh by PV Idemudia
You reign
You Ancient Zion′s King
Kadosh Kadosh
You are mighty on your throne
You reign
You Ancient Zion's King
Kadosh Kadosh
You are mighty on your throne
You reign
You Ancient Zion′s King
Kadosh Kadosh
You are mighty on your throne
You reign
You Ancient Zion's King
Kadosh Kadosh
You are mighty on your throne
You reign
You Ancient Zion's King
Kadosh Kadosh
You are mighty on your throne
You reign
You Ancient Zion′s King
Kadosh Kadosh
You are mighty on your throne
Break forth
Oh spirit of the deep
Cry out kadosh
To the lamb upon the throne
Sing loud
Oh saints of God most high
Sing loud kadosh
To the lamb upon the throne
You reign
You Ancient Zion′s King
Kadosh kadosh
You are mighty on your throne
You reign
You Ancient Zion's King
Kadosh Kadosh
You are mighty on your throne
You are mighty on your throne
You are mighty on your throne
You are mighty on your throne
You are mighty on your throne
You are mighty on your throne
You are mighty on your throne
You are mighty on your throne
You are mighty on your throne
Kadosh kadosh
You reign, You reign
Kadosh kadosh
Adonai, Lord we worship you
Kadosh kadosh
You reign, You reign
Kadosh kadosh
Adonai, Lord we worship you
Kadosh kadosh
You reign, You reign
Kadosh kadosh
Adonai, Lord we worship you
You are mighty on your throne
You are mighty on your throne
You are mighty on your throne
You are mighty on your throne
You are mighty on your throne
You are mighty on your throne
You are mighty on your throne
You are mighty on your throne
You are mighty mighty mighty
You are mighty mighty mighty
You are mighty mighty mighty
You are mighty mighty mighty
You reign
You Ancient Zion′s King
You reign
You Ancient Zion's King
Kadosh Kadosh
You are mighty on your throne