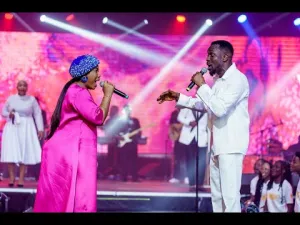 Preye Odede is a Nigerian gospel musician, songwriter, music minister, and worship leader. He has released several popular gospel songs, including "Ebezina," "Bulie," "Idinma," "Oshimiri Atata," and "I am Real."
Preye Odede has won several awards and recognitions for his music, including the Nigerian Gospel Music Award for Best New Artiste in 2014, and the African Gospel Music Award for West Africa Best Male Vocalist in 2018. He has also performed at various gospel concerts and events both nationally and internationally.
Aside from his music career, Preye is also a pastor and a motivational speaker. He is passionate about reaching out to people with the message of hope and the love of Christ through his music and ministry. Preye Odede believes that music is a powerful tool for ministering to people, and he is committed to using his music to inspire, motivate and encourage people to live a purposeful life.
Download and stream this awesome hit titled "Okaka", featuring Mercy Chinwo.
Click on the links below to enjoy:
Lyrics to Okaka by Preye Odede ft Mercy Chinwo
You've never lost a battle
You cannot start now
You have been healing the sick
You cannot stop now
you've never lost a battle
How can start now
You have been healing the sick
You cannot stop now
you've never lost a battle
You cannot start now
You have been healing the sick
You cannot stop now (2x)
Who can stand against you mighty God
No one
Great one of Israel
Okaka -(Greater than the greatest )
Your name is greater than all names
Mighty and glorious are your works
CHORUS
Okaka (greater than the greatest)
Mighty God
Before the battles starts
You have won it for me (2x)
You're always doing good
You cannot stop now
Always providing for me
You cannot stop now
You're always doing good
You cannot stop now
Always providing my needs
You cannot stop now
Who can stand against you mighty God
No one
Great one of Israel
Okaka (greater than the greatest)
Your name is greater than all names
Mighty and glorious are your works
CHORUS
Okaka (greater than the greatest)
Mighty God
Before the battles starts
You have won it for me (4x)
(Mighty in battle)
Mighty in battle
(Mighty in battle)
Mighty in battle
(Mighty in battle)
Mighty in battle)
(You have won it for)
You have won it for me
(Mighty in battle)
Mighty in battle
(Odogwu akataka- fearless warrior)
Mighty in battle
(Mighty in battle)
Mighty in battle
(You have won it for)
You have won it for me
(Mighty in battle)
Mighty in battle
(Mighty in battle)
Mighty in battle
(Mighty in battle)
Mighty in battle
(Say you have won it for me)
You have won it for me
(Mighty in battle)
Mighty in battle
(Mighty in battle)
Mighty in battle
(Mighty in battle)
Mighty in battle
(You have won it for me)
You have won it for me
You have won it for me
(You have won it for me) (4x)
(You're my strong tower)
You have won it for me
(You're my strong tower)
You have won it for me
(Say You have won it for me )
CHORUS
Okaka (greater than the greatest)
Mighty God
Before the battle starts
You have won it for me (4x)
Okaka (greater than the greatest)
Mighty God
Before the battle starts
You have won it for me
I don't need to fight in this battle
He said "stand still and know that I am God"
Before the battle starts
You have won it for me
Okaka (greater than the greatest)
Mighty God
Before the battle starts
You have won it for me
Odogwu Akataka eh- (fearless warrior)
Mighty God
Before the battle starts
You have won it for me
I don't need to fight on my own
You've already given me victory
Before the battle starts
You have won it for me
CHORUS
Okaka (greater than the greatest)
Mighty God
Before the battle starts
You have won it for me
Okaka (greater than the greatest)
Mighty God
Before the battle starts
He has won it for you
Before the doctor gave you the prescription
Before that diagnosis
Before the battle starts
You have won it for me
You've never lost a battle
How can you start now
Always running my things
You never disappoint
Who can stand against you mighty God
No one
Great one of Israel
Okaka (greater than the greatest)
Your name is greater than all names
Always mighty
glorious are your works
Your name is greater than all names
Mighty and glorious are your works
Your name is greater than the doctors report
Mighty and glorious are your works
CHORUS
Okaka (greater than the greatest)
Mighty God
Before the battle starts
You have won it for me (3x)
To cancer
He's never lost a battle
How can he start now
Never abandoned His own
He will never start now
Who can stand against this mighty God
I say No one
Great one of Israel
Okaka (greater than the greatest)
Your name is greater than all names
Mighty and glorious are your works
CHORUS
Okaka (greater than the greatest)
Mighty God
Before the battle starts
You have won it for me (2x)