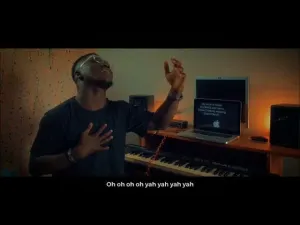 Nigerian gospel music artiste, minister and fast-rising praise and worship leader Pastor Courage is out again with this amazing song titled "Atmosphere".
It is an awesome song that speaks to a heart of worship. The song has received rave reviews from listeners since its release.
Released in 2023, "Atmosphere" is a perfect addition to any music lover's playlist. The song's duration is 04:36.
Additionally, it is a beautiful song that celebrates the presence of God. It's a song that touches the heart and soul of listeners, urging them to connect more deeply with God. Whether you're a longtime fan of Pastor Courage or a newcomer to his music, "Atmosphere" is a must-listen for anyone who loves gospel music.
Click on the links below to listen, stream and download.
Lyrics to Atmosphere by Pastor Courage
There's an atmosphere
In this place that Jesus loves to dwell
There's an atmosphere
In this place that Jesus loves to move
There's an atmosphere
In this place that Yeshua loves to dwell
There's an atmosphere
In this place that Yeshua loves to move
Oh, yeah, yeah, yeah, yeah
Jesus, take Your place
Oh, yeah, yeah, yeah, yеah
Jesus, take Your place
Oh, yеah, yeah, yeah, yeah
Jesus, take Your place
Oh, yeah, yeah, yeah, yeah
Yeshua, take Your place, oh
Miracles, signs and wonders, oh
In this atmosphere today
Healing, deliverance and favour, ooh
In this atmosphere today
Aye, this atmosphere is corrosive
This atmosphere is explosive, oh
This atmosphere will intoxicate you
Until you are drunk, oh, drunk in the Holy Ghost, oh
There's an atmosphere
In this room that Yeshua loves to dwell
There's an atmosphere
In this house that Jesus loves to move
There's an atmosphere
In this place that Yeshua loves to walk
There's an atmosphere
In this place that Jesus loves to move
Oh, yeah, yeah, yeah, yeah
Jesus, take Your place, oh
Oh, yeah, yeah, yeah, yeah
Jesus, take Your place, oh
There's an atmosphere
In this place that Jesus loves to dwell (Jesus loves to move)
There's an atmosphere
In this place that Jesus loves to move (There's an atmosphere)
There's an atmosphere
In this place that Jesus loves to dwell
There's an atmosphere (Yeah)
In this place that Yeshua loves to move
Aye, oh, yeah, yeah, yeah, yeah
Jesus, take Your place
Yeah, yeah, yeah, yeah
Jesus, take Your place
Yeah, yeah, yeah, yeah
Jesus, take Your place
Yeah, yeah, yeah, yeah
Jesus, take Your place
Yeah, yeah, yeah, yeah (There's an atmosphere)
Jesus, take Your place
Yeah, yeah, yeah, yeah (Jesus, my lover)
Jesus, take Your place (Take Your place)
Jesus, take Your place