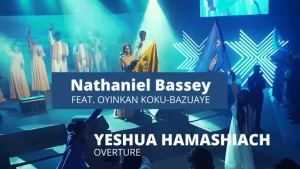 Nathaniel Bassey's song "Yeshua Hamashiach (Overture)" features Oyinkan Bazuaye.  Jesus the Messiah is the English translation of the Hebrew phrase "Yeshua Hamashiach." The song, which exalts Jesus as the Messiah and Supreme Ruler of the universe, is an awesome song of praise.
The unique style of Nathaniel Bassey is on full display in this song, and Oyinkan Bazuaye's melodoius voice make a lovely addition. It is an amazingc way to communicate the happiness and jubilation that come from praising God.
"Yeshua Hamashiach (Overture)" is a thrilling song of praise and worship that deserves to be on your playlist.