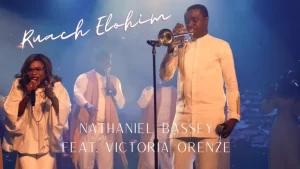 Nigerian musician, pastor, trumpeter and gospel songwriter Nathaniel Bassey, who is well-known for his songs "Imela," "Onise Iyanu," and "Olowogbogboro", is out again with this beautiful and soul lifting worship song titled "Ruach Elohim".
Nathaniel Bassey has made a name as one of Nigeria's most well-known and popular gospel ministers throughout the years. His music includes hymns, worship music, and medleys, among other genres.
"Ruach Elohim" is a powerful worship song that extols the Holy Spirit and seeks to invoke His presence. The lyrics of the song are in both Hebrew and English, making it a unique and interesting fusion piece. It has become quite popular among worshippers and has been sung in many churches and gatherings around the world.
"Ruach Elohim" is a Hebrew expression meaning "The Spirit of God". Victoria Orenze is featured in this beautiful song. Make sure it is on your playlist.
Click on the links below to stream and download:
Lyrics to Ruach Elohim by Nathaniel Bassey ft Victoria Orenze
[Verse]
Ruach Elohim, Ruach Elohim
Ruach Elohim, Ruach Elohim
Ruach Elohim, Ruach Elohim
Fill this Place
Ruach Elohim, Ruach Elohim
Ruach Elohim, Spirit of the Lord
Ruach Elohim
Ruach Elohim, Fill this Place
Ruach Elohim, Ruach Elohim
Ruach Elohim, Ruach Elohim
Ruach Elohim, Ruach Elohim
Fill this Place
[x10]
Ruach Elohim, Ruach Elohim
Blast wind and Breath of God
Ruach Elohim, Ruach Elohim
Ruach Elohim, Fill this Place