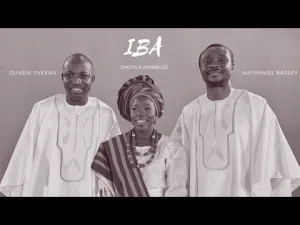 Nathaniel Bassey's song "Iba" features vocals by Dunsin Oyekan and Dasola Akinbule.
Iba, a Yoruba word, means "worship" in English. The song, which is a potent worship music, exalts God for His amazing deeds and His never-ending mercy.
The song is an excellent demonstration of Nathaniel Bassey's talent as a gospel musician who is passionate about inspiring people to worship God. Nathaniel Bassey's powerful voice is nicely accompanied by the vocal contributions of Dunsin Oyekan and Dasola Akinbule, who create a lovely harmony in the song.
Click on the links below to enjoy:
Lyrics to Iba by Nathaniel Bassey ft. Dunsin Oyekan & Dasola Akinbule
Na na na na na na na
Nathaniel Bassey
Blessed art thou son of David
Blessed art thou Ruth of Jesse
Blessed art thou son of David
Blessed art thou Ruth of Jesse
You are eminently glorious
Immaculately beautiful
I can go on and on
On and on
But my words aren't enough
My vocabularies will fail me
But permit me to cry out
Iba o iba oo, Iba o iba
Chorus
Iba o iba
Iba o iba
Iba o iba
Iba o iba
Na na na na na na na
Dunsin Oyekan
Blessed art thou rock of ages
(Blessed art thou)
Blessed art thou king of heaven
Blessed art thou rock ages
(oh blessed art thou)
Blessed art thou king of heaven
You are infinitely powerful
Magnificently wonderful
I can go on and on and on and on and on
And on…
But my words are not enough
(they're not enough)
My vocabulary will fail me
(they always fail me)
Permit me to bring this song of victory
Iba o iba iba iba
Chorus
Iba o iba ah!
(adofarati)
Iba o iba
(o ro'mo ni ise farati)
Iba o iba
Iba o iba
Iba o iba
(To the one who sit on the throne)
Iba o iba
Iba o iba
Iba o iba
(King og Kings, Lord of Lords)
Iba o iba
(Righteous one)
Iba o iba
Iba o iba
Bridge
You tell the wind how hard to blow (ahhhhh)
And tell the rain how much to fall
You lay the pathway for the lighting (ahhhhhh)
Those who are wise will worship you
You are clothed endowless-ly splendour (ahhhhhh)
I'm loved in this spring light
There's not limit to your power
(There can never be)
(ahhhhhhhhh)
Those who are wise will honor you
Chorus
Iba o iba (my God my father)
Iba o iba (I bow my heart in worship)
Iba o iba (just to say iba o iba)
Iba o iba (there's no one like you Jesus)
Iba o iba (there's no one like you my father)
Iba o iba
(chants…)
Iba o iba
Iba o iba
Iba o iba
Iba o iba
Iba o iba
Chorus
Iba o iba
Iba o iba
Iba o iba (Wonderful counsellor)
Iba o iba (King of Peace)
Iba o iba (Kabeyise oo)
Iba o iba
Iba o iba
(Who shall not stand you, who shall not fear you)
Iba o iba
(you're glorious in Holiness)
Iba o iba
Iba o iba
Iba o iba
(Great in counsel, great in wisdom, full of glory…)
Iba o iba
Iba o iba
Iba o iba
Iba o iba
Blessed art thou son of David
Blessed art thou Ruth of Jesse