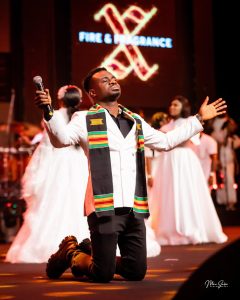 Mr M & Revelation is a gospel couple who are known for their love for the gospel and the kingdom of God and their ever booming zeal for propagating the gospel through their lively but spirit filled gospel songs.
"It's You Or You Lord" is one of their recent renditions and this song is a total surrender and reliance on God.
This couple have been using their talent to the glory of God and this is not an exception as they have blessed the world again with this awesome song titled "It's You Or You Lord".
Take a beautiful listen here:
Lyrics to It's You Or You Lord by Mr M & Revelation
You're my helper
Holy ghost my helper
With you lord
Nothing can never go wrong
You're my leader
Holy ghost my helper
With you lord
Nothing can never go wrong
Ah ah ah ah eh eh eh eh
It's you or you Lord
It's either you or nothing
Fix me fix me
Holy spirit fix me
With you Lord
Nothing can never go wrong
Help me help me
Holy spirit help me
With you Lord
Nothing can never go wrong
Teach me teach me
Holy spirit teach me
With you Lord
Nothing can never go wrong
Ah ah ah ah eh eh eh eh
It's you or you Lord
It's either you or nothing
Ah ah ah ah eh eh eh eh
It's you or you Lord
It's either you or nothing
Take the lead lord
Holy Ghost I'll follow
It's either you or nothing
Take the lead lord
Holy Ghost I'll follow
With you Lord
Nothing can never go wrong
Ah ah ah ah eh eh eh eh
It's you or you Lord
It's either you or nothing
Ah ah ah ah eh eh eh eh
It's you or you Lord
It's either you or nothing