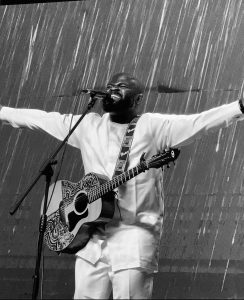 Moses Akoh is a Nigerian gospel artist and guitarist who hails from Nasarawa state. He is known for his outstanding vocals, music performance, and song writing.
His music and ministry have inspired many people across Nigeria and beyond. He has shared stages with other famous Nigerian gospel music giants such as Nathaniel Bassey and Frank Edwards.
He has also performed at major events in the country, including The African Praise Experience, Lagos, and his music has played on local radio and television stations.
Akoh's dedication to spreading the gospel of Jesus Christ through music has earned him a place among the top gospel artists in Nigeria.
Here is his new release titled "River Flow". To enjoy this awesome piece, kindly click on the links below to stream and download.
Lyrics to River Flow by Moses Akoh
(Verse)
The spirit is hovering
I can feel it in the air
He has come to testify of Jesus Christ
We are the remnants That will wait for you
To pour your Spirit out
like a river
(Chorus)
Let your river flow Oh oh oh oh
Let your river flow
Holy Spirit come rest in me Oh oh oh oh
Abide in me right now
(Verse)
The spirit is hovering
I can feel it in the air
He has come to testify of Jesus Christ
We are the remnants That will wait for you
To pour your Spirit out
like a river
Let your river flow Oh oh oh oh
Let your river flow
Holy Spirit come rest in me Oh oh oh oh
Abide in me right now
My body is your sanctuary
Come and do whatever You want to do
I'll make room for you, I'll make room for you
So you can do whatever
you want to do
So you can do whatever you want to do