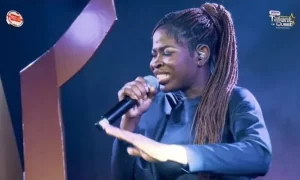 Labisi, a fast upcoming gospel singer and winner of Gospel Groove Talent Quest Show 2023, has released a brand new single titled "Osuba" along with its official music video. With a mission of being a blessing to many through Kingdom music, Labisi has delivered a powerful and melodious Gospel track.
You can now stream and download "Osuba" for free and share it with their friends and family. The track is a testament to Labisi's strong faith and deep commitment to spreading the word of God through her music.
Don't miss out on this amazing song and music video by Labisi. Download "Osuba" today and experience the power of Kingdom music for yourself. Share it with your loved ones and spread its message of faith, hope, and love to those who need it most.
Lyrics to Osuba By Labisi
Iberu ko si fun mi
Aya o fo mi o
Alade wura
Olorun to ga ju olodo
Talo to o
Ta lo ju o lo baami
Eni to mo wa, oba to mo wa
to mo ohun gbogbo
Olodumare o
Baba mi awimayehun
Ogbigba tin gba ala i lara
Ogbigba tin gba ala i lara
Asoro maye hun
Oni bu ore
………
Oba akoda aye o
Ogbigba tin gba alai lara
Asoro ma ye hun o
[Chorus]
Osuba ba olorun ijaya
Gbani gbani olorun an saya
Eni to le mi mi
Mode
Osuba ba olorun ijaya
Gbani gbani olorun an saya
Eni to le mi mi
Mode
Ogbeni nija keru ba onija
O pin okun niya
Oji oku dide
Iba re ma re SIR
Eleburu ike ni o
Eni to ma
Oba to mo wa
To mo ohun gbogbo
Osuba ba olorun ijaya
Gbani gbani olorun an saya
Eni to le mi mi
E ma ma se o