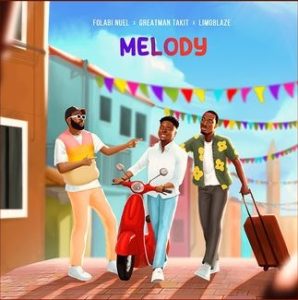 Folabi Nuel, Limoblaze, and Greatman Takit have teamed up to create this brand new energetic and uplifting gospel hit titled "Melody."
The song is led by Folabi Nuel, whose rich voice is wonderfully complemented by the high-energy cooperation with Limoblaze and Greatman Takit.
"Melody" is a celebration of God's goodness and affection for His people. It encourages listeners to join in praising and worshipping God and remind them of the power of music in uplifting minds, bodies, and souls.
"Melody" is a song that will bless music lovers everywhere. It will make you fired up, thrilled, and glad for God's love, whether you listen to it alone or in a group. Don't just be told about this. Experience it yourself, by clicking on the links below to stream, download and listen to this enthralling song.
Lyrics to Melody by Folabi Nuel, Limoblaze & Greatman Takit
CHORUS
There's a melody in my heart
(Hayyy, there's melody)
There's a melody in my heart
(Hayyy, there's melody)
Song of victory dey my mouth
(Hayyy e dey my mouth)
There's a melody in my heart
(Hayyy, there's melody)
Monday, Tuesday
Wednesday, Thursday, Friday
Oooi, ooi
You love me
In the morning
In the evening
Na Your favour I dey see
Oooi, ooi
You love me
VERSE
All day me I know
I'm covered
Sunshine or rain
Any weather
Angels all round my matter
You don't who I call my
Call my Father
Make you no use me dey play now
Jehovah dey for my case now
My Daddy enter the case
And it was a shutdown ooo ee
Melody in my nheart right now
Songs of victory dey my mind now
So tell dem dey feel my vibe na
Monday, Tuesday
Wednesday, Thursday
CHORUS
Monday, Tuesday
Wednesday, Thursday, Friday
Oooi, ooi
You love me
In the morning
In the evening
Na Your favour I dey see
Oooi, ooi
You love me
VERSE
Jesu my Lord
The tin You do to me gbaski
Ooh my Daddy
I go like to tell the story ooo
Shey na because of the blood
Wey you shed as you die for me
And I dey feel all the love
As e be I'm not faraway, away
I dey try calculate, like Faraday
But as e be mio le salaye e
Daily be loading me with benefits
I go dey sing to You sweet belle dey ee
Lundi, mardi, mercredi
Pukedi boy come be melanin ooo
Greatman, Limoblaze, Folabi
Three Jesus boys livin la vida