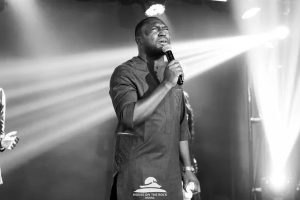 David Dam, a respected Nigerian Koinonia gospel musician, has released a well-arranged soundtrack titled "Elohim Adonai". The song glorifies the name of the Lord and is available for download as an mp3.
As a global creative music artist and talented singer, David Dam has also released a video for the song.
In this song, David Dam demonstrates his multi-dimensional talent as a songwriter and worship leader at Koinonia. This vibrant and sensational Christian-based song is a welcome addition to his previously released music and is sure to resonate with listeners.
"Elohim Adonai" is a powerful song that should make it to your playlist. If you are a lover of good music, do not hesitate to download and listen to the MP3 version of the song.
Click here to stream and download:
Lyrics to Elohim Adonai by David Dam
Elohim Adonai,
Thy kingdom come,
Thy will be done (Hey)
Elohim Adonai,
Thy kingdom come,
Thy will be done (Ohhhh ohh)
Elohim Adonai,
Thy kingdom come,
Thy will be done (Yeah eh)
Elohim Adonai, (Elohim Adonai)
Thy kingdom come,
Thy will be done
Elohim Adonai,
Thy kingdom come, (Thy will)
Thy will be done (Ouhh)
Elohim Adonai, (Elohim Adonai)
Thy kingdom come (Yeah)
Thy will be done (Elohim)
Elohim Adonai, (Ehhh hehhh)
Thy kingdom come, (Thy will be done)
Thy will be done
Elohim Adonai, (Hey, thy kingdom)
Thy kingdom come, (Thy will)
(One more time, Elohim Adonai) Thy will be done
Elohim Adonai, (Yeah oh)
Thy kingdom come, (Thy kingdom)
Thy will be done (Thy will be done in my life)
Elohim Adonai, (Huu uhuu)
Thy kingdom come, (Hallelujah)
Thy will be done (Hey, Hallelujah haa)
Yehh ehhh hehhh he,
Thy kingdom come,
Thy will be done
Yehh ehhh hehhh he,
Thy kingdom come,
Thy will be done
Yehh ehhh hehhh he,
Thy kingdom come, (Thy kingdom)
Thy will be done (Yehhehh ehhh ehhh)
Yehh ehhh hehhh he,
Thy kingdom come, (Thy kingdom Ohh ohohh)
Thy will be done (Yehh ehhh hehhh heh ehhe eh)
Yehh ehhh hehhh he, (Yehhehh ehhh hehhh)
Thy kingdom come, (Oh ohho ehhh yehh)
Thy will be done
Yehh ehhh hehhh he, (Yehhehh ehhh ehhh hehhh)
Thy kingdom come,
Thy will be done (Elohim Adonai)
Elohim Adonai,
Thy kingdom come,
Thy will be done
Elohim Adonai,
Thy kingdom come,
Thy will be done
Elohim Adonai,
Thy kingdom come,
Thy will be done
Elohim Adonai,
Thy kingdom come,
Thy will be done