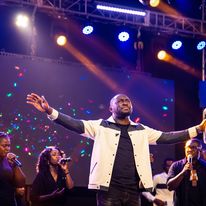 Nigerian award-winning Gospel singer/ songwriter David Dam, known for his passionate style of music, is an eminent gospel music singer, and songwriter whose songs have always ministered to lives. He has released a new single titled "Ebenezer," which means "My Help Has Come!!!," a song that has blessed many people all over the world through the Grace of God.
The vibrant and sensational song follows in the footsteps of his previously released music. As an excellent songwriter and worship leader at Koinonia, David Dam offers a heartfelt rendition of "Ebenezer."
You can download Ebenezer by David Dam in mp3 format and enjoy the incredible vocals of this creative music artist and talented singer.
Kindly click on these links to download, stream and watch video:
Lyrics to Ebenezer by David Dam
Oh oh oh oh oh
My help has come
Oh oh oh oh oh
My help has come
Oh oh oh oh oh
My help has come
Oh oh oh oh oh
My help has come
Oh oh oh oh oh
My help has come
Oh oh oh oh oh
My help has come
Oh oh oh oh oh
My help has come
Aya yah yah yah aah
Ebenezer, Ebenezer
Aya yah yah yah aah
Ebenezer, my help has come
Aya yah yah yah aah
Ebenezer, Ebenezer
Aya yah yah yah aah
Ebenezer, my help has come
Oh oh oh oh oh
My help has come
Oh oh oh oh oh
My help has come
Oh oh oh oh oh
My help has come
Oh oh oh oh oh
My help has come
Aya yah yah yah aah
Ebenezer, Ebenezer
Aya yah yah yah aah
Ebenezer, my help has come
Aya yah yah yah aah
Ebenezer, Ebenezer
Aya yah yah yah aah
Ebenezer, my help has come
Oh oh oh oh oh
Favour has has come
Oh oh oh oh oh
I know my favour has come
Oh oh oh oh oh
Favour has has come
Oh oh oh oh oh
Favour has has come
Oh oh oh oh oh
Favour has has come
Aya yah yah yah aah
Ebenezer, Ebenezer
Aya yah yah yah aah
Ebenezer, my help has come
Aya yah yah yah aah
Ebenezer, Ebenezer
Aya yah yah yah aah
Ebenezer, my help has come
Oh oh oh oh oh
My breakthrough has come
Oh oh oh oh oh
My breakthrough has come
Oh oh oh oh oh
My breakthrough has come
Oh oh oh oh oh
My breakthrough has come
Aya yah yah yah aah
Ebenezer, Ebenezer
Aya yah yah yah aah
Ebenezer, my help has come
Aya yah yah yah aah
Ebenezer, Ebenezer
Aya yah yah yah aah
Ebenezer, my help has come
Aya yah yah yah aah
Ebenezer, Ebenezer
Aya yah yah yah aah
Ebenezer, my help has come
Oh oh oh oh oh
My help has come
Oh oh oh oh oh
My help has come