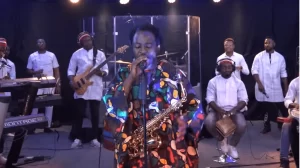 With a heart full of thanksgiving, African Gospel worshipper, minister, and songwriter, Chris ND, along with Ngborogwu Band, has delivered yet another classic and fascinating track titled "Oluwa Show Me Love" that is sure to bless your soul.
Chris ND, whose full name is Christian Ndudim Iweajunwa, is a talented artist with a passion for creating faith-filled music that brings people closer to God. "Oluwa Show Me Love" is no exception, featuring outstanding lyrics and a creative rhythm that will have you dancing and singing along in no time.
Accompanied by a captivating music video, this head-bopping and feet-tapping track creates the perfect mood for a light dance while declaring the faith-filled lyrics "Oluwa Show Me Love."
Download "Oluwa Show Me Love" by Chris ND and experience the uplifting power of this beautiful African Gospel track for yourself.
Lyrics to Oluwa Show Me Love by Chris ND
Oluwa show me love o
When I no get nothing
Carry my matter for head
Na why I dey denge pose
This is my testimony
Onu m as wo mbara
Chukwu okike ekele'm gi
Halleluya ooo
[Solo]
Oluwa show me love o
When I no get nothing
Carry my matter for head
Na why I dey denge pose
This is my testimony
Onu m asa wo mbara
Chukwu okike ekele'm gi
Halleluya ooo
{Oluwa show me love o
When I no get nothing
Carry my matter for head
Na why I dey denge pose
This is my testimony
Onu m as wo mbara
Chukwu okike ekele'm gi
Halleluya ooo }x2
Hallelu hallelujah (2x)
Hallelu hallelujah o
Hallelu hallelujah (2x)
Instrumentals
Father father, baba Nla my father
Father father, Corect father wey no take coma
Father father, He make me harmer when i no get okada
Father father, This morning e wake me up with Alart gbagan
Father father, Say na who dey do am
Father father, baba nla my father wey no get comma
Father father, shey na who dey do am
Father father, Ejima
Father father, morning e wake me up with Alart gbagan
Father father
Yo yo yo ah e
Yaga Yaga Yaga Yaga, Ah eh
Yaga Yaga Yaga yo yoyo
ahh e, ah ah ah
[Repeat]
Oluwa Show me Love
When I no get nothing
carry my matter for head
na why I dey denge post
This is my testimony
Onu m as wo mbara
Chukwu okike ekele'm gi
Halleluya ooo