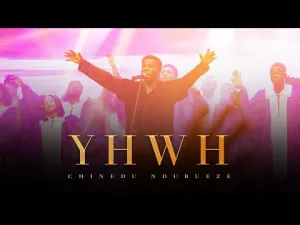 Download and stream "Yhwh" by gospel singer, songwriter, and worship leader from Nigeria, Chinedu Ndubueze. Yhwh is one, amongst several hit gospel songs released by him.
Chinedu's music is well-known for its upbeat lyrics, lovely melodies, and soul-stirring worship. He is well-known for his ability to create a worshipful atmosphere with his music, and his songs have motivated many people to get closer to God.
Through his music and ministry, Chinedu is enthusiastic about sharing the message of hope and love that Christ has for us. He feels that music may be used to minister to people and that is what he does.
Click on the links below to enjoy this beautiful tune:
Lyrics to Yhwh by Chinedu Ndubueze
Your plans and your will
Intentions and purpose for me
Is what I receive
The mantles of the fathers
More power more love in our midst
Is what we will see
So we stand in the gap
We open our hearts
To receive what you have for us
I stand in the gap
I open my heart
To receive what you have for me
Oh Yahweh Yahweh
Yahweh Yahweh
Yahweh Yahweh
Yahweh Yahweh
My heart is open, Yahweh
My heart is ready, Yahweh
My heart is open, Yahweh
My heart is ready, Yahweh
Your plans and your will
Intentions and purpose for me
Is what I receive
The mantles of the fathers
More power more love in our midst
Is what we will see
Your plans and your will
Intentions and purpose for me
Is what I receive
The mantles of the fathers
More power more love in our midst
Is what we will see
So we stand in the gap
We open our hearts
To receive what you have for us
I stand in the gap
I open my hearts
To receive what you have for me
Yahweh Yahweh
Yahweh Yahweh
Yahweh Yahweh
Yahweh Yahweh
My heart is open, Yahweh
My heart is ready, Yahweh
My heart is open, Yahweh
My heart is ready, Yahweh
Yahweh Yahweh
Yahweh Yahweh
Yahweh Yahweh
Yahweh Yahweh
My heart is open, Yahweh
My heart is ready, Yahweh
My heart is open, Yahweh
My heart is ready, Yahweh
Yahweh Yahweh
Yahweh Yahweh
Yahweh Yahweh
Yahweh Yahweh
My heart is open, Yahweh
My heart is ready, Yahweh
My heart is open, Yahweh
My heart is ready, Yahweh
Yahweh Yahweh
Yahweh Yahweh
Yahweh Yahweh
Yahweh Yahweh
My heart is open, Yahweh
My heart is ready, Yahweh
My heart is open, Yahweh
My heart is ready, Yahweh
Holy Ghost we are
We are ready
We are ready
We are ready
Holy Ghost we are
We are ready
We are ready
We are ready
Holy Ghost we are
We are ready
We are ready
We are ready
Holy Ghost we are
We are ready
We are ready
We are ready
Holy Ghost we are
We are ready
We are ready
We are ready
Holy Ghost we are
We are ready
We are ready
We are ready
Yahweh Yahweh
Yahweh Yahweh
Yahweh Yahweh
Yahweh Yahweh
My heart is open, Yahweh
My heart is ready, Yahweh
My heart is open, Yahweh
My heart is ready, Yahweh
My heart is open, Yahweh
My heart is ready, Yahweh
My heart is open, Yahweh
My heart is ready, Yahweh
My heart is open, Yahweh
My heart is ready, Yahweh
My heart is open, Yahweh
My heart is ready, Yahweh
Yahweh Yahweh
Yahweh Yahweh
Yahweh Yahweh
Yahweh Yahweh
My heart is open, Yahweh
My heart is ready, Yahweh
My heart is open, Yahweh
My heart is ready, Yahweh