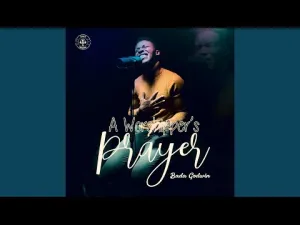 Bada Godwin is a Nigerian gospel artist, songwriter, and worship leader. He is known for his passion for worship and his soulful and heartfelt music.
Bada Godwin has released several gospel singles. His music is characterized by its powerful lyrics and soulful sound, which has endeared him to many listeners and earned him a place among Nigeria's finest gospel artists.
Bada Godwin is also a music director who oversees the music ministry of some churches in Lagos, Nigeria. He is known for his ability to lead worship in a way that creates an atmosphere of intimacy with God, and he has been a blessing to many people through his music ministry.
Don't miss this beautiful tune by him, titled "A Worshipper's Prayer".
Click below now to download and have a nice listen:
Lyrics to A Worshipper's Prayer by Bada Godwin
And my heart beats
Yes it beats
It beats for The Living Word.
My flesh is weak, my spirit is willing
Daily fall, You still pick me up
But You look at me and say that You love me
You give me strength in the weakness of my flesh.
You say I'm nothing less than what You have called me
A royal priesthood
A chosen generation.
Chorus:
Let my life live
The worship that You seek
Let You be the song that I sing
Unveil my face to behold Your Glory
Avail my heart to be buried in Your Light
I know a little of how much You love me
It feels too much for all that I deserve
Just a sprinkle of the blood You shed for me
Gave me victory for a thousand years to come.
(AH YAH)
So I abandon my ambitions
They are vain
I take up Your cross
As an exchange
I abandon my will for Your plan
I take up your word as an exchange
Chorus:
You said he that must worship,
Must worship in Spirit and in Truth
Lord help me to know You more
Cos You are The Truth, You are The Way, You are The Life.
Help me to know You more.
Let my life live You
Let my life live You
Let my song be You Lord
Let my song be You
Oh oh oh oh
(AH YAH)
Chorus:
Help my heart Lord
You said I can only find You
when I seek You
With all of my heart
I am seeking first Your Kingdom
Seeking first Your Kingdom
Seeking first Your Kingdom
And nothing else
I am seeking first Your Wisdom
Seeking first Your Direction
Seeking first You and nothing less