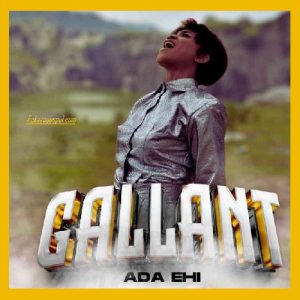 Download Ada Ehi – Gallant Mp3
Ada Ehi is known for several qualities that contribute to her success and impact in the music industry. Some of her notable qualities include: Exceptional Vocal Talent, Ada possesses a powerful and versatile voice, allowing her to deliver emotionally resonant performances her Songwriting Skills are not only spiritually uplifting but also connect with a broad audience.
Her songs often reflect a deep and genuine connection to her Christian faith, conveying messages of worship, faith, and gratitude.
Most of all is her charitable endeavors creates activities, leveraging her success to make a positive impact on communities in need.
Ada Ehi's combination of musical talent, spiritual depth, and positive influence has made her a respected and influential figure in the gospel music industry, contributing to her widespread popularity and success.
This time she has released a new single called "Gallant" The song gives advice to believers to stand strong to the coming of Jesus Christ "Gallant Till He Returns" Take a Listen below.
Lyrics to Gallant Till He Returns by Ada Ehi
Ada Ehi Gallant Till He Returns Lyrics
Oweh oweh oweh oweh oweh
Oweh oweh oweh oweh oweh
Oweh oweh oweh oweh oweh
Oweh oweh oweh oweh oweh
Born of God you say say
You say oweh oweh oweh oweh
Oweh oweh oweh
Gallant o, till He returns
Verse
For I know whom I've believed
And I know HE's more than able to
Keep me from falling
Preserve me in victory
For I know whom I've believed
And I know HE's more than able to
Keep me from falling
Preserve me in victory
Unmoveable unshakable
Are those who put their trust in the Lord
For we know whom we have believed
So here in HIS power we stand Gallant
Here in HIS power we stand eh Gallant
We Gallant oh, Till HE returns
Here in HIS might we stand Galant
We bouncing in Grace alone Gallant woohh
We Gallant oh, hey hey hey Till HE returns
By HIS Grace we've come this far Gallant
By HIS Grace we go all the way Gallant
Gallant oh oh oh oh oh, Till HE returns
We are standing Gallant ah ha Gallant
By HIS Glory gali gagali gali gagali Gallant oh oh oh oh
Till HE returns
For I know
Repeat Verse
Here in HIS might and HIS strength alone Gallant
For HIS praise and HIS name HIS Glo o ory
Gallant oh oh oh oh, Till HE returns
HIS Church remains Gallant
We Gallant we Gallant we Gallant
We Gallant we Gallant we Gallant
Till HE returns
Oweh oweh oweh oweh oweh
Oweh oweh oweh oweh oweh
Oweh oweh oweh oweh oweh
Oweh oweh oweh oweh oweh
Born of GOD you say say
You say say you say say
You say say you say say
Oweh oweh
Gallant o, till HE returns
Here in HIS Victory
We stand
And we remain
In Victory In Victory
We stand