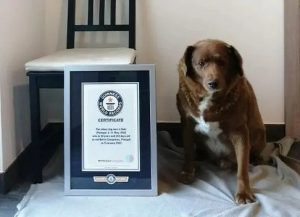 Bobi, the remarkable dog who defied all expectations and created history, passed away at 31 years and 165 days old on October 21, 2023 in his home in the Portuguese village of Conqueiros, where he lived with his family.
On February 2, 2023, Guinness World Records honored Bobi as the oldest dog ever, a moment of immense pride for his owner, Leonel Costa, the Costa family, and dog enthusiasts globally.
Bobi's extraordinary lifespan was officially confirmed by the Veterinary Medical Service of the Municipality of Leiria in Portugal and Portugal's National Union of Veterinarians' pet database. Bobi's story began humbly, born in a litter of four puppies. Initially overlooked, he was found hidden among wood by young Leonel and his brothers. They decided to keep him, leading to a bond that lasted over three decades. His longevity was attributed to his peaceful environment and a diet of human food, mirroring what his family ate. Despite having previously owned long-lived dogs, Bobi surpassed them all, including his mother, Gira, who lived to 18, and another dog, Chicote, who lived to 22.
Dr. Karen Becker, a veterinarian, shared the news of Bobi's passing on Facebook, expressing her sorrow. Bobi's legacy will live on in the hearts of those who loved him. Rest in peace, Bobi.