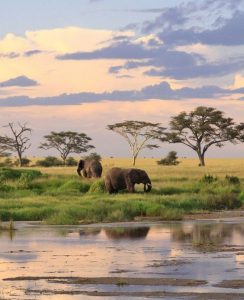 "South Africa" which is known as the republic of South Africa is also a very good location you should consider for your safaris adventure. It's African scenery like Golden savannah, Great gaping gorges including the awe striking beautiful deserts and African creatures is also a bonus and the reason you should consider it for your adventures.
South Africa has in it world's luxurious game reserves. People that are in love with wildlife go to South Africa to experience and see popular wildlife creatures like Lions, Buffalos, Elephants etc.. The experiences there are definitely worth it.
Nature inclined people can have their own exploration and experiences from the range of Mountains, White-water rafting, Surf breaks, Coral reefs and many more in South Africa.
You can also travel within the vibrant cities of South African to have an experience or more understanding of the varieties of cultures in South Africa. Places like Cape Town, Durban, Soweto should definitely be considered.
Using this well curated list, get to know the top tourist attraction in SA.
1. Kruger National Park
Kruger National Park is located hours away from Johannesburg and provides an opportunity for tourists to have an experience with lions, leopards, buffalos, elephants, and rhinos alongside an array of other wildlife. Guests can tour the park by using a walking safari or even take a view of the sky through hot air balloons. They can also experience visiting archaeological sites and paintings. Kruger park makes provisions of lodging like camp sites, thatched bungalows and up scale lodges. You will definitely see that one that is according to your preference.
2. Cape Town, Western Cape
Cape Town is a visually stunning city nestled between a mountain range and the ocean. The city's most iconic landmark is Table Mountain which visitors can hike to or take a cableway to see a panoramic view. The area also has the Kirstenbosch Botanical Gardens and False Bay, which is known for its golden beaches. Other places of interest include Cape Point, Camp's Bay, and the Victoria and Alfred Waterfront. At sunset, people go to Chapman's Peak Drive to celebrate the sunset, a ritual known as "sundowners."
3. The Garden Route
The Garden Route which is located at South Africa's southeast coast showcases some of the country's most remarkable coastal scenery. The route travels along the Indian Ocean from Mossel Bay in the Western Cape to the Storms River in the Eastern Cape. Visitors who drive this famous route witness picturesque coastal towns, rolling hills, lagoons, lakes, and cliffs. The Garden Route boasts numerous attractions, including the charming town of Knysna, situated by a beautiful lagoon and thick forests. It is breathtaking and stunning with gorges, tidal pools, and dense forests, Oudtshoorn ostrich farms and the awe-inspiring Cango Caves, while the Robberg Nature Reserve features a seal colony in Plettenberg Bay. The Garden Route is also known for offering adventures like whale watching, tree canopy tours, bungee jumping, and elephant experiences.
4. Kgalagadi (Kalahari) Transfrontier Park, Northern Cape
The Kgalagadi Transfrontier Park, formed by merging South Africa's Kalahari Gemsbok National Park and Botswana's Gemsbok National Park is one of the most extensive wildlife area in the world. It became Africa's official transfrontier park and was established in the year 2000. this park is a prominent destination for tourist to explore in the Northern cape of South Africa. The Landscape was formed by gnarled camel thorn trees, red sand, golden grasslands, and deep blue skies which makes it a perfect location for photography and wildlife watching. It includes in it , a diverse range of wildlife in which some of them are predators.
5. Stellenbosch, Western Cape
Stellenbosch, a picturesque town in South Africa, is renowned for its beautiful landscape and well-preserved architecture from the Dutch East India Company era. It is a lively university town with fantastic cuisine, including some of the country's best restaurants and several sidewalk cafes. The town offers visitors intriguing historical sites, including the Stellenbosch Village Museum and the Rupert Museum, which feature pieces by South African artists. The Botanic Garden at the University of Stellenbosch is also an excellent place to visit.
In the surrounding area, Nature lovers can hike and bike on the wilderness trails in the awesome Jonkershoek Nature Reserve.
6. The Drakensberg, KwaZulu-Natal
The Drakensberg also known as the Dragon Mountains, is a top destination to visit in KwaZulu-Natal and favorite holiday spot among South Africans. The area contains South Africa's highest peaks and includes the uKhahlamba-Drakensberg Park which is known as a World Heritage site due to its beautiful basalt formations, San rock art, and Royal Natal National Park which features the magnificent Amphitheatre that serves as the source of South Africa's significant rivers.
Mountain landscapes are lush and fruitful during summers and covered with snow in winters. Travelers normally visit here for recreational activities like hiking, biking, rock climbing, fishing, parasailing, abseiling, and rafting in the fast-flowing rivers. Hot-air ballooning is also a fantastic way to witness the magnificent topography.
7. Pilanesberg National Park
Pilanesberg National Park is a great option for seeing Africa's Big 5 even if you're short on time, being few hours from Johannesburg and Pretoria. The park boasts a high concentration of wildlife, even though smaller than its counterpart, Kruger National Park. It hosts a diverse range of animals besides the Big 5 (elephant, rhino, leopard, lion, and buffalo) including giraffes, antelopes, zebras, wild dogs, and bird species. The park offers different types of accommodations that cater to different budgets and is a good choice for families.
8. iSimangaliso Wetland Park, KwaZulu-Natal
The name iSimangaliso derived from the Zulu language means "miracle and wonder" which is a fitting title for this remarkable World Heritage Area that is home to Africa's largest estuarine system. The site was previously called the Greater St. Lucia Wetland Park and is located on the northeastern coast of Kwazulu Natal connecting eight interdependent ecosystems that encompass coral reefs, crocodile-filled rivers, lakes, towering coastal dunes, swamplands, and savanna.
It is unsurprising that such a diverse and complex area supports a vast array of wildlife. With more than 526 bird species residing within the reserve, as well as rhinos, leopards, loggerhead and leatherback turtles, and the highest concentration of hippos and crocodiles in Africa, it is a wildlife enthusiast's dream destination.
This unique wilderness area offers travelers the opportunity to combine classic safari experiences with coastal adventures in the marine reserve. Activities such as kayaking, fishing, diving, and snorkeling are just a few of the exciting activities that await visitors to this extraordinary destination.
9. Blyde River Canyon Nature Reserve, Mpumalanga
Beautiful Blyde River Canyon Nature Reserve which is also known as Motlatse River Canyon is one of the favorite stop on the drive between Johannesburg and Kruger National Park. This park comprises of Arica's second largest canyon, A rich and large diversity of wildlife and plants. It also has Lush subtropical foliage, waterfalls, glistening rivers, and lichen-covered rock formations that creates a striking canvas of color and texture.
Game viewing can be very fulfilling with all the common species of South African primates, many hippos and crocodiles. The perfect way to explore this fun filled park is by taking the beautiful driving routes or hiking it's extensive trails. you can explore its Panoramic viewpoints which includes Three Rondavels and the aptly named God's Window.
10. Robben Island, Western Cape
Robben Island is a World Heritage site located in Table Bay which serves as a chilling reminder of the atrocities of apartheid. Here, Nelson Mandela and other political dissidents and social outcasts were imprisoned in cramped cells for 18 years. The ex-prisoners themselves often act as tour guides, providing first-hand accounts of the horrors they experienced.
Tourists begin at the multimedia museum at the Nelson Mandela Gateway in the Victoria and Alfred Waterfront, before embarking on a 30- to 45-minute boat journey to the island, which can be tumultuous due to rough waves. It is highly recommended to book the tours in advance due to high demand.