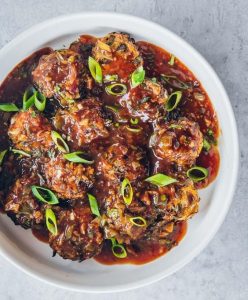 The irresistible taste of crispy Manchurian, filled with cabbage, sausage, and spices, is adored by both kids and adults alike.
Lately, homemade hot Manchurian made from corn flour, cabbage, and carrots has gained popularity. Although it's relatively simple to prepare at home, achieving the same crispiness as restaurant-made Manchurian can be a bit challenging.Many individuals find that while they can replicate the spiciness and flavor of restaurant-style Manchurian at home, they struggle to maintain its crispiness, resulting in a softer texture. To help attain that desired crispiness when making Crispy Manchurian at home, here are some useful tips:
1. Finely chop the cabbage and carrots using a chopper for crispier Manchurian balls.
2. Avoid using water in the cabbage batter to prevent the balls from becoming soggy.
3. Incorporate maida or corn flour into the batter to enhance crispiness, with a recommended ratio of 2:1 for corn flour.
4. Maintain round shapes for the batter balls to prevent sauce from seeping in and softening them.
5. Fry the balls in very hot oil to prevent sogginess.
6. For an extra crispy texture, dip the fried balls in corn flour slurry and fry them once more.
7. Avoid covering the Manchurian balls after frying to retain their crispiness.
8. Use a mixer to finely chop carrots and cabbage without adding water for a finer texture.