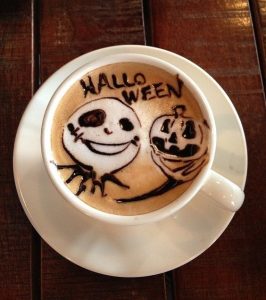 Embrace the Halloween spirit with these six eerie coffee cocktails perfect for your spooky party! If you're the host this year, these concoctions are a must-have on your menu. Forget the notion that Halloween festivities are not just for kids; adults can revel in the fun too. These coffee-based potions not only lift the mood but also keep you energized for the night's adventures.
1. Witch's Brew Coffee
Mix brewed coffee, coffee liqueur, green crème de menthe, heavy cream, and crushed ice in a shaker. Shake well, pour into a glass, and garnish with plastic spiders for a chilling effect.
2. Vampire's Kiss Mocha
Combine brewed mocha coffee, cherry vodka, chocolate liqueur, whipped cream, and red food coloring in a shaker. Drizzle over whipped cream for a vampire-inspired look.
3. Zombie Espresso Martini
Create the ultimate Zombie Espresso Martini by shaking espresso, dark rum, coffee liqueur, simple syrup, and ice vigorously. Strain into a martini glass and garnish with coffee beans for a haunting touch.
4. Black Cat Cold Brew
Mix cold brew coffee, black vodka, orange liqueur, and orange zest with ice. Serve in a glass filled with ice for a spooky, dark appearance.
5. Frankenstein's Cappuccino
Shake espresso, Irish cream liqueur, green crème de menthe, whipped cream, and chocolate syrup. Drizzle chocolate syrup on top for Frankenstein's monster's hair. Enjoy this monstrous delight!
6. Pumpkin Spice Latte Martini
Indulge in the flavors of fall with a Pumpkin Spice Latte Martini. Combine espresso or strong coffee, pumpkin spice liqueur, vanilla vodka, half-and-half or cream, and ice. Rim the glass with crushed graham crackers for a delightful pumpkin pie touch. Get ready for a hauntingly good time!