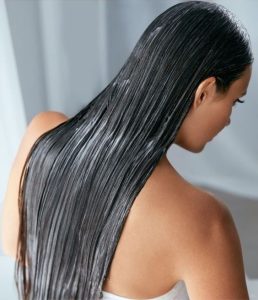 Looking to achieve glossy, lustrous hair? Your solution might be as close as your kitchen, in the form of a time-tested remedy: eggs. Eggs have long been recognized as a natural, age-old solution for promoting hair health.
Filled with essential nutrients like protein, biotin, and vitamins, eggs offer nourishment to your hair, leaving it strong, shiny, and resilient. Here are five effective methods to incorporate eggs into your hair care routine, ensuring that coveted shine
1. Egg Mask for Nourishment: Whisk one or two eggs (depending on your hair length) in a bowl to create a simple egg mask. Apply the mixture onto damp hair, starting from the roots to the tips. Protect your hair with a shower cap and let the mask sit for 20-30 minutes. Wash it off with cool water and a mild shampoo. The proteins in eggs aid in repairing and strengthening hair, enhancing its natural shine and softness.
2. Egg and Yogurt Conditioning Treatment: For a more indulgent experience, blend an egg with plain yogurt. The combination of egg protein and yogurt's conditioning properties deeply moisturizes and revitalizes your hair. Apply this blend to damp hair, leave it on for 20 minutes, and rinse thoroughly with a gentle shampoo. This treatment effectively restores moisture and adds a healthy sheen to your locks.
3. Egg and Olive Oil Hair Mask: Elevate your hair care routine by mixing an egg with a tablespoon of olive oil. This potent hair mask provides moisture and boosts shine. Olive oil, renowned for its deep conditioning properties, complements the egg's nourishing benefits. Apply the mask evenly to your hair, leave it on for 30 minutes, and rinse thoroughly. This combination leaves your hair glossier and incredibly soft.
4. Egg and Honey Hair Mask: Combine an egg with a tablespoon of honey to create a powerful hair mask that not only enhances shine but also retains moisture. The natural humectant properties of honey, when combined with the protein-rich egg, make your hair more manageable and visibly shinier. Apply the mixture to your hair, leave it on for 20-30 minutes, and wash off with a mild shampoo for soft, radiant hair.
5. Egg Rinse for Shine: Short on time but longing for shiny hair? Prepare a quick egg rinse by beating an egg and mixing it with a cup of water. When you are done shampooing, pour this mixture over your hair and massage it into your scalp. Allow it sit for a few minutes, then rinse it off thoroughly. This swift rinse helps restore shine and vitality to your hair, leaving it smoother and more lustrous.
These simple and natural egg-based treatments into your hair care routine can transform your locks, leaving them brilliantly shiny and healthier than ever before.