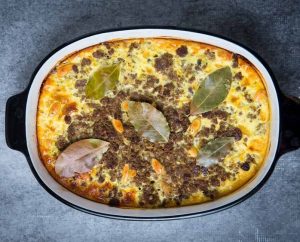 Certainly! South African cuisine is diverse and flavorful, influenced by various cultures. The delicacies stems from the savory mixing of curried meat and fruits.
Here are recipes for two popular South African dishes Bunny Chow and Bobotie.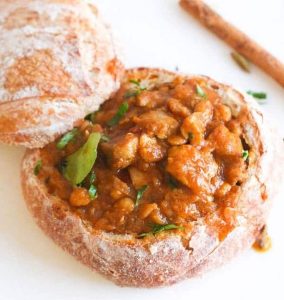 Bunny Chow
Ingredients
4 hollowed-out bread rolls (loaves)
500g lamb or chicken
2 Cubed onions
Finely chopped tomatoes
2 Chopped cloves
Minced garlic
1 tablespoon curry powder
1 teaspoon ground turmeric
1 teaspoon ground cumin
1 teaspoon ground coriander
Salt and pepper to taste
Fresh coriander leaves for garnish
Method
Step 1: Heat oil in a pan, sauté onions and garlic until soft. Add meat cubes and brown them.
Step 2: Add spices (curry powder, turmeric, cumin, coriander), salt, and pepper and Mix well. Add tomatoes and let it simmer until the meat is tender and the sauce thickens.
Step 3: Hollow out the bread rolls, creating a bowl-like shape, Fill the hollowed-out bread rolls with the meat mixture. Garnish with fresh coriander leaves.
Serve hot and enjoy!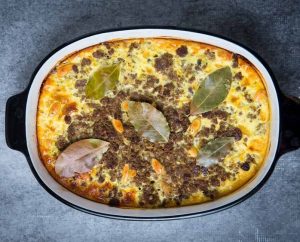 Bobotie
Ingredients
Two slices of your white bread
Chopped onions(2)
Butter(25kg)
Crushed garlic cloves(2)
A kg packet of minced beef
Curry paste(2tbsp)
Dried mixed herbs(1tbsp)
Cloves(3)
All spice berries(1tbsp)
Peach or mango chutney(2tbsp)
sultana(3tbsp)
Bay leaves(6)
Grinded pepper
For Your Toppings
Full-cream milk(300ml)
2 eggs
Method
STEP 1: Heat up your oven. Soak your bread inside a cold water and set it aside.
STEP 2: Sautee your onions with butter and stir for like 10 mins until it softens and starts coloring. Input your garlic and beef and stir it properly. You can add your minced meat into the mixture and crush properly till it changes color. Add in your curry paste, sultanas, herbs, spices, chutney, bay leaves, salt and your grinded pepper.
STEP 3: Cover you pot and let it simmer for 10 mins. Squeeze water out of your bread and beat it into the mixture until its well blended. Pour the mixture into an oven favorable container, smoothen the top properly in the container. If you prefer making it a day ahead and allowing it to chill before baking, it's not a problem.
STEP 4: For your toppings, beat your milk and eggs with seasoning and pour them on top of the meat. Top it off with the remaining bay leaves and allow it to bake for 35-40 mins until it sets and turns golden.