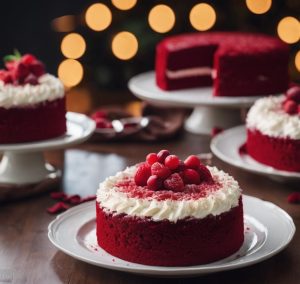 Making a fluffy red velvet cake is a delightful endeavor that combines rich cocoa flavors with a vibrant red hue and a velvety texture.
Here's a step-by-step guide to help you create the perfect fluffy red velvet cake
Ingredients
2 1/2 cups all-purpose flour
1 1/2 cups granulated sugar
1 teaspoon baking powder
1 teaspoon baking soda
1 teaspoon salt
1 teaspoon cocoa powder
1 1/2 cups vegetable oil
1 cup buttermilk, room temperature
2 large eggs, room temperature
2 tablespoons red food coloring
1 teaspoon vanilla extract
1 teaspoon white vinegar
Instructions
1. Preparation: Preheat your oven to 350°F (175°C).Grease and flour two 9-inch round cake pans.
2. Mixing Dry Ingredients: In a medium bowl, whisk together flour, sugar, baking powder, baking soda, salt, and cocoa powder. Set aside.
3. Preparing Wet Ingredients: In a large bowl, combine vegetable oil, buttermilk, eggs, red food coloring, vanilla extract, and white vinegar. Mix properly until the ingredients are fully incorporated.
4. Combining Wet and Dry Ingredients: Gradually add the dry ingredients to the wet ingredients, mixing until just combined. Be careful not to overmix; stop as soon as there are no more visible flour streaks. Overmixing often results to a dense cake.
5. Baking: Divide the batter equally between the prepared cake pans. Smoothen the top to ensure even baking. Insert the cake into the preheated oven for 25-30 minutes or you can also use a toothpick to check if the center will come out clean.
6. Cooling: Remove the cakes from the oven and allow them to cool in the pans for 10 minutes. It's essential for the cakes to cool entirely before frosting to prevent the frosting from melting.
7. Preparing Cream Cheese Frosting: While the cakes are cooling, prepare the cream cheese frosting. In a mixing bowl, beat together softened cream cheese, unsalted butter, powdered sugar, and vanilla extract until smooth and creamy.
8. Assembling: Once the cakes are completely cool, frost the top of one cake layer with a generous amount of cream cheese frosting. Carefully place your second cake layer on top and frost the top and also sides of the cake with the remaining frosting. Use a spatula or a cake smoother to create a smooth finish.
9. Decoration (Optional): Decorate the cake as desired. You can use cake crumbs, edible flowers, or chocolate shavings to add a decorative touch.
10. Enjoy: Slice, serve, and enjoy your homemade fluffy red velvet cake!
It's a perfect choice for birthdays, celebrations, or just indulging in a delicious treat. Happy baking! Enjoy your fluffy and decadent red velvet cake!