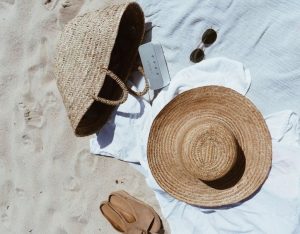 Summer evokes images of sun-kissed beaches, tranquil waves, and a relaxed atmosphere. As you prepare for that idyllic beach holiday, ensuring you have the right essentials can significantly enhance your experience. Here's a comprehensive guide to the essential items for your perfect beach getaway.
1. Sun Protection
I. Sunscreen: Shielding your skin from harmful UV rays is paramount. Use a broad-spectrum sunscreen with high SPF and reapply it every few hours.
II. Sunhat and Sunglasses: A wide-brimmed hat and UV-blocking sunglasses offer added protection for your face and eyes, reducing the risk of sunburn and eye damage.
2. Beach Attire
I. Swimsuits/Cover-ups: Pack comfortable and stylish swimsuits or cover-ups that suit your style and provide ease during beach activities.
II. Flip Flops/Sandals: Easy-to-wear footwear like flip flops or sandals are perfect for sandy shores and quick transitions between the beach and other areas.
3. Beach Accessories
I. Beach Towel: A large, absorbent towel is essential for drying off after a dip in the sea or lounging on the sand.
II. Beach Bag: A spacious, sand-resistant bag can hold your essentials like sunscreen, water bottle, snacks, and more.
III. Portable Beach Umbrella/Tent: Provides shade during the hottest hours, these items offer a retreat from direct sun exposure.
4. Hydration and Snacks
I. Water Bottle: Stay hydrated under the sun by carrying a reusable water bottle to refill throughout the day.
II. Healthy Snacks: Pack light snacks like fruits, nuts, or energy bars to keep you fueled and energized during your beach activities.
5. Entertainment and Gadgets
I. Reading Material: A captivating book or magazine is perfect for relaxation while soaking up the sun.
II. Waterproof Phone Case: Protect your phone from water damage so you can capture memorable moments without worry.
III. Portable Bluetooth Speaker: Enjoy your favorite tunes while lounging by the sea or during a beach picnic.
6. First Aid Kit and Essentials
I. Basic Medications: Carry essentials like pain relievers, antihistamines, and any prescribed medications you might need.
II. Basic First Aid Supplies: Band-aids, antiseptic wipes, and ointments can be handy for minor cuts or scrapes.
7. Beach Games and Activities
I. Beach Ball/Frisbee: Simple yet entertaining, these items encourage group activities and fun on the sand.
II. Snorkeling Gear/Bodyboard: For the people that is keen on exploring the underwater world, snorkeling gear or a bodyboard can add excitement to your beach holiday.
A well-planned beach holiday involves more than just a swimsuit and sunscreen. The right essentials can elevate your experience, ensuring comfort, safety, and enjoyment throughout your stay. Whether basking in the sun, splashing in the waves, or simply unwinding by the shore, these summer essentials will undoubtedly enhance your beach getaway, leaving you with lasting memories of a perfect seaside retreat.